Are you looking to buy the best mason jars for overnight oats or salads? Well, you are not alone. There is something that tends to really excite people about overnight oats in a mason jar. This is probably because they are easy to prepare or very convenient to take in the morning before you go to work.
Oats are loaded with nutrients such as fiber, potassium, protein and even Omega 3 fatty acids among other nutrients. So they make a very healthy and nutritious breakfast.
However, the majority of people have a hard time choosing a good container to prepare their overnight oats or carry their salads to work. They often use containers that leak or those that affect the freshness of the oats or salads.
Therefore, in this article, we will provide you with a list of 5 mason jars that will be the most suitable for your overnight oats and salads.
At A Glance – Best Mason Jars for Overnight Oats and Salads
Best Mason Jars for Overnight Oats and Salads Comparison Table
Why use Mason jars for overnight oats/salads over plastic food containers
There are several reasons why mason jars are recommended over plastic jars. One is that they are made of glass which is easier to clean as compared to plastic.
Another reason is that glass is chemical-free, so there is no risk of harmful substances seeping into your oats or salad and posing a health risk to you or changing its taste.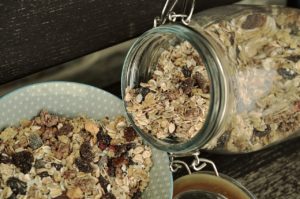 In addition, glass jars can be reused for many years and are pretty durable not unless they are dropped and break.
Moreover, mason jars seal properly and are portable. So if you prepare your salad, you can carry it to work or when traveling without the fear of the dressing leaking.
Reviews of the best glass jars for overnight oats and salads
1. Golden Spoon Mason jars

Product description
Material: Glass
Lids: Silver
Mouth: Regular
Product Details
These Golden Spoon mason jars come in a set of six each with a 16oz capacity.
They are made of clear and transparent glass so the taste of your oats is not altered and also keeps it fresh for a longer period. The lids, on the other hand, are silver and close tightly to ensure the jars are airtight.
These jars come with extra silver lids with holes for inserting a straw. The hole has a thick rubber ring around it to ensure the straw fits snugly as you take your drink or cocktail.
Most importantly, you can use them to preserve supplies such as dry cereals and homemade cookies and keep your pantry organized. Some people also use them to organize their office supplies like pens and erase markers.
Other than organization and food preservation, these mason jars are also used for decorations and crafts.  For instance, you can create party lights by painting the jars and decorating them the way you desire.
Pros
They are safe to wash in a dishwasher
BPA free
High quality
Can be used for canning
Leakproof
Freezer and microwave safe
Cons
You have to purchase the straws separately.
2. Ball Jar wide mouth with Lid and Band

Product description
Material: Clear glass
Lids: silver with an airtight band
Mouth: Wide
Products details
Wide mouth mason jars are not very common. The Ball Jars are among the few that have a wide mouth. This makes them easy to clean or to use canned food or salad directly from the jar.
They are a perfect replacement for plastic drinking containers since they do not leave your overnight oats with a plastic-like taste.
Moreover, if you do not have drawers for utensils, you can use these jars to store spoons, forks and knives on the kitchen counter.
You also use these jars to hold candles, jellies, jams, and herbs among other supplies.
Pros
The wide mouth makes them very comfortable to drink out of.
High-quality glass
Sturdy
BPA and Lead-free
Leakproof and airtight
Microwave and freezer safe
Cons
Not very durable especially when used to can hot foods.
Watch this video to learn 7 different ways to make delicious and nutritious mason jar salads.
3. Le Parfait Familia Wiss Terrines mason jars

Product description
Dimensions: 4x4x4 inches
Material: Clear glass
Mouth: Wide
Lid: 2 piece metal
Product details 
Le Parfait Familia glass jars are made from all-natural materials, which makes them environmentally friendly.
They are perfect for keeping your oats in the fridge and even eat from them thanks to the wide mouth. They have the widest opening compared to other wide mouth mason jars. So they are easy to fill and clean.
To ensure the jars are tightly sealed, the jars come with a 2-piece sealing cap and screw lid made of metal. The full screw metal lid enables the jar to close tightly for proper storage after opening.
They can also be used to store and preserve seasonal harvest like herbs, seafood, meat and ferments, and organize your pantry. In addition, these jars can be used to serve homemade foods like cookies and make perfect gifts when decorated.
Pros
High quality
Preserves flavor
BPA free
Comes in an environmentally friendly packaging
Can be stacked in the pantry
Freezer safe
Airtight
Cons
You have to use a new sealing cap for each canning or preserving event
4. KAMOTA Mason Jars

Product description
Material: clear glass
Lids: Silver
Mouth: Regular
Product Details 
The KAMOTA mason jars are made from high-quality glass, which is very durable.
They are transparent to allow you to see through and know what contents inside without removing the lid.
In addition, each Mason jar comes with a whiteboard sticker that is used to mark and stick on the cover for you to identify the contents in the jar.
The jars are BPA free and food-grade safe. So you can store your oats or salad in the fridge for even up to 3 days.
Other than preserving and storing fruits, these jars can be used as a drinking glass with a straw. Also, some people use them for decorations and crafts work such as to make light lanterns for a party.
They can also be used for baby food, spices, jam, honey, cosmetics and homemade candles among other items in the kitchen.
Pros
Freezer safe
Seals tightly so they don't leak
Airtight
Very sturdy
Lids are rust-resistant
BPA free
Dishwasher safe
Cons
Users have no complaints regarding these jars except issues with packaging where some arrive broken
5. Nakpunar 16 oz Mason Jars

Product description
Dimensions: 2.5×2.5.4.9 inches
Material: Clear glass
Lids: White metal
Mouth: Regular
Product details
These mason jars are made of thick glass, which makes them very durable.
The lids are one-piece yet very airtight thanks to the rubber on the inside, which allows them to seal very tightly.
In addition, you can use these jars to organize your pantry since they are stackable. The lids are slightly raised at the top on the edges to ensure that the stacked jars do no slip off.
Although the mouth of the jar is regular, it is wide enough to allow easy filling, scooping and cleaning.
Most importantly, they are perfect for keeping your overnight oats as well as preserving fruits and vegetables.
Pros
Freezer safe
Microwave safe
Dishwasher safe
Leakproof
Perfect for canning
Thick and high-quality glass
Cons
Users are satisfied with these jars.
More about the best containers for overnight oats and salads
What size mason jar for overnight oats and salads is best?
If you love making salads in mason jars, I'm sure this question has crossed your mind several times.
Mason jars come in different sizes; quart (32oz), pint (160z), half-pint (8oz), and a quarter pint (40z). Although the most suitable size to use is entirely on you, I believe the amount of the salad you want to make is a major contributor.
For instance, if you want a nice-sized salad to carry to work, a pint-sized mason jar would be ideal since it is small enough to bring along. But, to make larger salad portions for either lunch or dinner at home, quart-sized jars are the best.
Mason jars come in different sizes and you can easily get any size you want from a store depending on what you want to use the jar for.
For salads, the majority of people go for a quart (32oz) or pint (160z) sizes of mason jars. However, if you want to take your salad to work, the quart-sized jar would be too cumbersome to carry. This size is perfect if you want to prepare large salad portions to store in the fridge for the family.
The pint-size jars are lighter to carry and can accommodate a good amount of salad for your lunch at work.
Why prepare salads in mason jars?
If you put your salad along with the dressing in a plastic food container, there is a possibility that the ingredients will mix and become soggy.
Mason jars have a perfect height to prevent the ingredients from mixing. If you put everything right from the wettest to the driest ingredients, you will enjoy a crisp and fresh salad even hours later.
The dressing should be the first to put in the jar followed by any other wet ingredient. Ingredients that can get soaked up when they come into contact with the dressing like lettuce, should be the last (topmost layer) in the jar.
With this kind of placement, you can even store your mason jar salad in the fridge for up to 10 days without the ingredients becoming soggy.
Wide mouth mason jars vs Regular, which one for salads or overnight oats?
Mason jars come in only 2 lid sizes; wide mouth and regular mouth. The regular mouth jars have a smaller opening than the rest of the body while the wide mouth jars have a wider opening, which is in line with the rest of the jar.
There is no specific reason as to why you should choose the regular or wide mouth mason jars for your salads and oats. Whichever one you choose is up to your preference.
Nonetheless, it is important to note the differences between the two so that you can pick the one that suits your needs.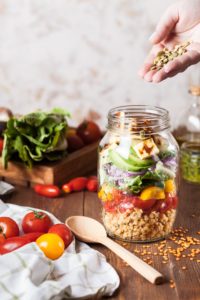 To start with, wide mouth jars are easier to fill compared to regular mouth jars. This is because the wide mouth can easily accommodate larger pieces of salad like fruits and pickles.
Wide mouth jars are also easier to clean. You can fit your hand inside with a sponge and clean every corner unlike with the regular jars.
In addition, you can actually eat your salad straight from the jar without putting first into a bowl, thanks to the wide mouth.
Moreover, the wide mouth jars can be stacked since they offer a more surface area on top for another mason jar to stand on. Although you may not need to do this with salad jars, it is a feature you must consider if you are planning to stack the mason jars in the pantry or fridge.
Regular wide mouth jars also have their own benefits. For instance, they are the most appropriate for jellies, sauces, and spices, and for holding smaller crafts items.
Conclusion
The best mason jars for overnight oats come in a wide range of designs and sizes as we have seen in this review. The size normally ranges from 4oz to 32 oz with a regular or wide mouth. If you are wondering which size is most suitable, a wide or regular mouth quart-sized or pint-sized mason jar would be ideal. You can choose the brand you want from this list above. The majority of users prefer the Ball jars since they are not only affordable but also made of high-quality glass and have a leak-proof and airtight lid with a band.