Removing paint from a surface can be tiring and inefficient without the right tools. A sander can help you get rid of the paint from a surface quickly and properly. Electric sanders are becoming increasingly popular out of other sanding options. 
But, it is easy to get confused with the influx of different types of sanders that have flooded the market in recent years. There are sanders that are built for heavy-duty work, whereas some are made for small jobs around the house. In addition, some sanders differ in the materials that they are made up of. For instance, disc sanders, belt sanders, etc.
Many companies are competing against each other to be at a top-tier brand in producing sanders.
Types of Sanders For Paint Removal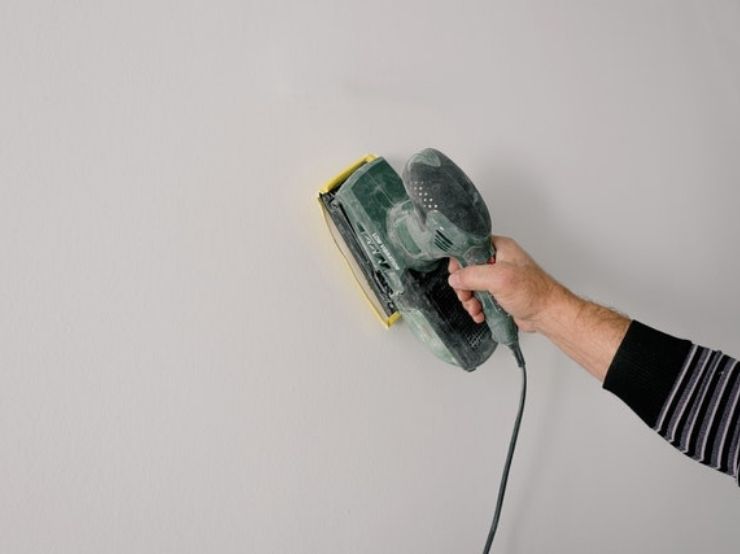 Orbital Sanders
Sanders that work in a circular motion are called orbital sanders. These sanders are famous and are mostly used for removing paint from wooden surfaces. They have a round plate at their base, covered in sandpaper. Orbital sanders are much better than the others because they do not attack the surface directly. The circular motion is easier on the object and does not ruin the finishing of the sanding job. Sometimes, orbital sanders may leave round marks on the surface, depending on its item.
These come in two types of power sources: electric and battery. Apart from electricity or battery-operated sanders, there are also simple palm sanders, which rely on manual force to work. The sizes of the bases of the sanders are different, such as 3 inches, 4 inches and so on. However, their 5 inches variant is common for most jobs. These sanders' speed is measured in Orbits Per Minute. 
Random Orbital Sanders
The other type of sander is called a Random Orbital Sander. It is essentially the same in function compared to an orbital sander except that apart from the circular motion, it also vibrates slightly – this stops the round marks from being imprinted on the object.
In higher-grade models, you can also adjust the speed of the random orbital sander.
Belt Sanders
Belt sanders are used in many heavy-duty work because of their power and ability to cover more area in less time. These sanders have a belt that loops around two wheels. You can also use these sanders manually. Unlike orbital sanders that move in circles, belt sanders move in rectangles. You can calculate their speed using Feet Per Minute. 
Since their surface area is rectangular, these sanders need flat surfaces to work best. You can use these to remove paint from the flooring, fencing, etc. Sometimes, these sanders might also peel off your material because of their force.
Disc Sanders
These sanders are not very common in use because they are rarely used. Disc sanders are used for sanding rough surfaces or surfaces that cannot easily be sanded otherwise. They are manual, and you will have to operate them using your hands. The unit of measuring their power is Revolutions Per Minute.
Finishing Sanders
As their name suggests, finishing sanders give the surface a finishing or a final touch. They can vibrate their base or come in different base shapes like rectangles, circles, etc. They have two variants, that is, electric and battery-operated options. As these sanders focus on sanding details, they are fitted with sandpapers of different sizes. You can calculate their speed in Orbits Per Minute, just like the Orbital Sander.
Shaft Sanders
Shaft sanders are perfect for removing paint from a large area. They peel off a lot of paint in one go and work well even if the surface has turns or edges. Of course, you can always use a combination of a shaft sander and a disc sander, for instance, to get your work done.
Drywall sanders
Drywall sanders are famous for their paint-peeling abilities, including plasters, paper peels, popcorn ceilings, etc. A drywall sander uses a disc sander with a long extension handle. You can easily reach unreachable spots with this sander.
6 Best sanders for removing paint: Reviewed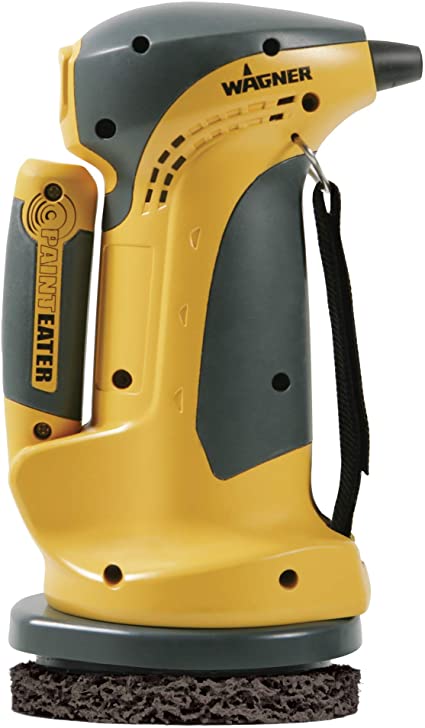 The Wagner sander is best for removing paint from wood. It is an electric sander and features a powerful motor. It works at 2000 Revolutions Per Minute (or RPM). The device has an open-web design which means that you can avoid the paint or dust from building up inside it over time. Also, because of the way it is made, you can use it from various angles.
One con is that even though the device comes with durable and long-lasting disks, they can be costly to replace if they do break.
Key specifications:
Rotating palm sander
Paint removal at any angle
Voltage: 120 V
Power source: Electric
Open-web sanding disc
Pros:
Best option for removing paint from wood
Easy to use for beginners
Flexible controls
Cons:
Expensive disks
Not an affordable option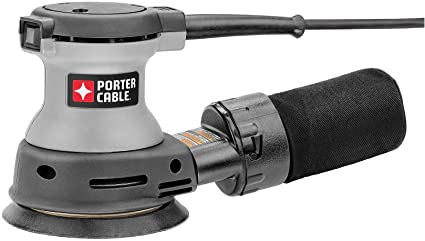 This orbital sander comes in handy when your job needs a final touch, or finishing effects. It is designed to operate in the sense that it maintains the minimum speed when it starts. This prevents any craters or uneven holes in the surface.
You can increase the sanding speed to the maximum to get a superior effect. The Porter-Cable random orbiter is best for surface maintenance or priming.
Key specifications:
Dual plane counter
More extended use of the switch
Voltage: 20 V
12,000 OPM for professional material removal of the orbital sander
Detachable dust bag of hand sander
Rubber grip
Pros:
A powerful motor
Dual-plane counter-balanced fan
Dust-protected switch
Good for both home and professional projects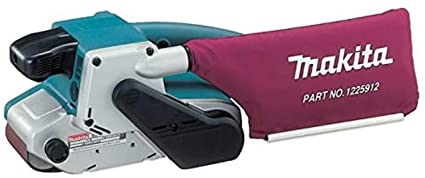 Makita is a well-known, trusted brand. Something unique to their products is their fantastic dust collecting system. It comes with a long, adjustable cord, making the use pretty flexible. The model is well-designed and power-packed in terms of performance. You can use it for various jobs and still find innovative ways to use it.
Key specifications:
Voltage: 110 V
Power source: corded electric
8.8 AMP motor
Only 85 dB in sound
Variable speed control
Auto-tracking belt system
Pros:
Powerful motor
Quieter in operation
It comes with a good dust collector
Cons:
No standard hose for the dust collector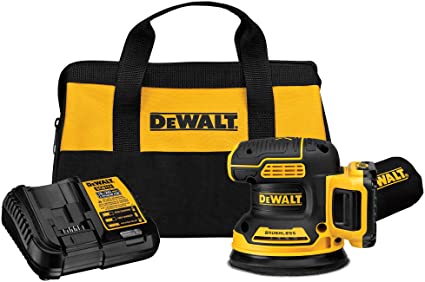 The Dewalt sander is best for use at a close range, as it allows the user to move closer to the surface. It is compact, and the brand is trustworthy. The design comes with a different look for the counterweight. Dewalt boasts that they have tweaked the model to vibrate less and enhance comfort and detailed finish while sanding.
The Dewalt one is the best option for a battery-powered sander compared to the other models. It works exceptionally well when it comes to removing paint from wood.
Key specifications:
Voltage: 20 V
Replaceable 8-hole hook-and-loop sanding pads
Variable speed control
Texturized rubber over mold grip
Pros:
Dust protected switch
Easy to use for beginners
Best battery-powered sander for removing paint from wood
Cons:
The size is not suitable to be fitted with a standard hose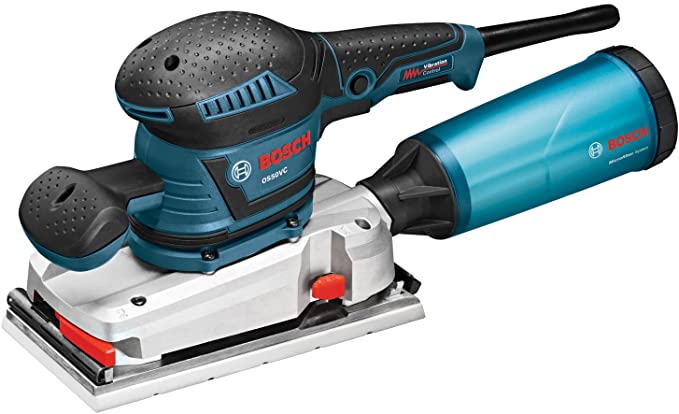 The Bosch OS50 VC has a powerful engine, and you can customise the speed to fit your needs. For example, you can up the speed for fast paint removal, whereas you can keep the speed to normal for a normal paint-removal experience. 
It features a vibration control panel as well, which is also customizable. It is a belt sander and attaches tightly to the sandpaper for efficient performance.
Key specifications:
Voltage: 120 Volts
Power Source: Ac/dc
Amperage Capacity: 4 Amps
Kit comes with a sander, dust container, front handle, sanding sheet, punch plate, etc.
Pros:
Best orbital sander
Powerful motor
Soft sanding pads
Cons:
It needs a vacuum cleaner to operate
Not cost-effective compared to competitors
Tacklife Orbital Sander
Tacklife sander is an orbital sander that is the best option for an Electric sander for home use. This piece can give your home projects a nice finish. It is not very useful for heavy-duty work because of its limited speed options and minimal control. But, it is very comfortable to use, the design is pretty simple and efficient, and it comes with an on/off button which makes it user-friendly.
Key specifications:
Adjustable speed dial options
It comes with 12 sandpapers
Dust collection
Comfortable design
Pros:
It comes fully packed with 12 sandpapers, a box for collecting dust, different speed settings
Good for home use
Cons:
Too small, only suitable for home projects
How to Remove Old Paint Using a Sander?
As the paint surface is old and has not been removed in a while, you will need a powerful sander to get rid of this paint. Additionally, some things you need to do to remove the paint safely are:
Sand the surface gently: Old paint is prone to chip off bit by bit and slowly. It would be best if you spent plenty of time sanding the surface slowly and gently.
Replacing the sandpapers: It is bound to be coarse when you work on an old surface. Your sandpaper will wear off quickly, so you must keep replacing them from time to time for efficient performance.
Refrain from using force: If you force the paint off or get impatient, you will end up damaging the piece or even the sander itself.
Dusting well: Removing all the dust from the surface before you start sanding is very important. As a precautionary measure, wear a mask while working to do not breathe in the dust. 
When To Use a Different Sander to Remove Paint From Wood?
Getting paint off of wood is difficult. To start, use coarse sandpaper (a recommended variant is the 80-grit one), and attach it to a power sander. You will need a powerful sander for this, so we recommend you go with the electric options. Next, use the sander to give the surface appropriate pressure to remove the paint.
Buying Guide: What to look for in a sander for removing paint?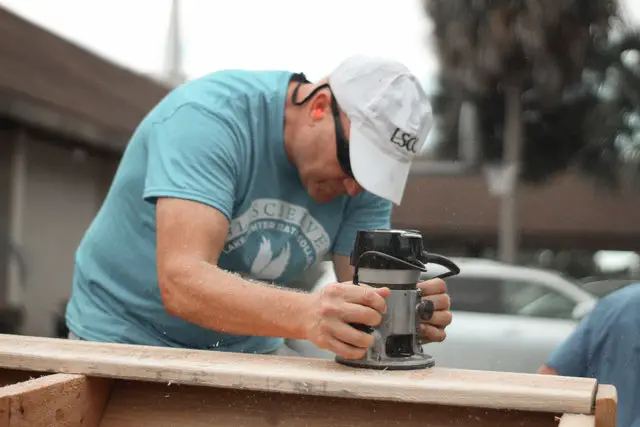 It would help if you kept in mind that a couple of things are essential while you pick the right sander. First, let us look at what features in sanders to look for when deciding which sander to buy.
Sanding speed: The speed with which the sander does the job is directly proportional to the time you will save. Different types of sanders are suitable for other jobs. So, before you make a decision, check what surfaces you need to use your sander for, and buy one with the RPMs or OPMs accordingly.
Power or force: Depending on the surface you need to remove the paint from, you need to pick a sander with the appropriate force. For wooden surfaces, you will need more powerful sanders.
Easy-to-use: If you are starting, go for a simple sander in its operation. Sanders like orbital or random orbital sanders are very easy-to-use.
Comfortable grips: Most sanders are manual and need your hands to operate. If you go in for a sander, you need to invest in one that will not tire you out and has a comfortable grip.
Also Read: How to remove scratches from stainless steel sink
FAQs
Can I use an orbital sander to remove paint?
You can use orbital sanders to remove paint from walled surfaces or wood. It will take a little time, but ensure that you don't apply too much force to the area. Also, ensure that you protect your nose, eyes, and mouth from these paint flakes.
Is a belt sander good for removing paint?
Belt sanders are durable and practical when it comes to removing paint. You can use the sander to get rid of the paint from wood. After using the belt sander, you can sand away the grain or the paint using heavy-grit sandpaper. Belt sanders are old and handy tools.
Can you use a drywall sander to remove paint?
Yes, drywall sanders are popular because they help you get rid of the paint in places you otherwise cannot reach. It also comes with a vacuum to suck in all the flakes of paint and dust. Unfortunately, drywall power sanders are a little challenging to use if you are new to them but otherwise very accessible.
Is a belt sander better than an orbital sander?
Both these sanders are reasonable depending on their uses. For example, you can easily sand the paint off a belt sander for large surfaces. In contrast, the orbital sander is better for using in smaller areas or surfaces because you can tilt or work them at various angles.
Wrapping Up
It is daunting to consider so many different sanders, brands, and various uses of each sander. But, after some research, you should be able to identify your needs. Once you have done that, you can go in for any of these recommended sanders to make your job easier. The products we have recommended are tremendous and will suit most needs, regardless of the material you want to sand off.