Can you use a diaper genie for dog poop? Of course yes.
You don't have to suffer the stinky dog poop smell in the garbage can in your garage while waiting for the trash day.
Diaper genies are meant to control odor from baby diapers and they can do just that for pet waste.
If you have kids who no longer use diapers and probably don't plan on having more kids, you can convert their diaper genie into a can for your pet's poop. But don't worry if you don't have one because you can easily purchase one.
In this article, we shall discuss how you can use a diaper genie for dog waste, how it works, and its benefits. We shall also provide a few examples of the best-rated diaper genies you can use.
How does a diaper genie work for dog poop?
If you have never used a diaper genie before, don't work because it comes fully assembled.
Diaper genies have are designed to be totally hands-free and to control odor. For this reason, they have a foot pedal that when stepped on, opens the lid and the airtight clamps allowing you to throw the poop inside.
To control smell, they have a carbon filter that is usually inserted under the lid. The filter contains activated carbon that absorbs the poop odor and locks it in so that it does not spread outside the genie.
How to dispose poop into the genie
Pick your dog's poop using a poop bag
Step on the foot pedal to open the lid
Toss the poop bag inside
Release the foot pedal to close the lid.
That's it. You don't have to worry about the stinking smell even in the hot summer.
---
See also: Dog poop pick up law
---
Which is the Best diaper genie for dogs?
1. Playtext diaper genie

This genie has a built-in odor control antimicrobial filter so you no longer have to deal with dog poop smell and germs.
It is taller than the ordinary diaper genies for your convenience so you don't have to bend when tossing the poop bag.
In addition, its lid shuts tightly thanks to the double airtight clamps so the odor is locked inside. This prevents the poop smell from spreading around your home.
For more odor protection, this genie comes with 7-layer diaper pail refill bags that line the can.
Pros
It has a foot pedal
Has a large capacity so it can accommodate many poop bags as you wait for trash day
Very easy to change the refill bags
Has a carbon filter built-in under the inside of the lid
Can be used with the regular trash bags instead of refill bags
Cons 
Since the genie is plastic, the poop smell tends to linger inside, it is important to clean and disinfect it regularly.
2. Pet Genie for dog poop

This is specifically designed for dogs although it can be used for small animals like cats.
It has a patented disposal system that has a push n lock clamp. This ensures that the entire poop odor is tightly sealed inside the genie to keep your home smelling fresh. For this reason, it can be used inside the house as well as outdoors.
You can use this genie for dog poop bags as well as doggy diapers since it is large enough to accommodate a week's worth of poop bags.
Pros
Large enough to take in a week's worth of poop bags without emptying
Does not rust since its plastic
Completely seals poop smell
Great for outdoor or indoor
Cons
Does not have a foot pedal
No carbon filter
3. Pawpail Pet Waste Station

This is another pail that is designed for your pet waste.
It comes with 200 thick, strong poop bags that do not leak so you can use them to pick up dog poop before tossing it into the pail. This eliminates the need to buy refills bags like with most diaper genies.
This disposal system is great at odor control thanks to the patented dual vent technology. In addition, it comes with an air filter containing activated carbon which absorbs the bad smell.
Most importantly, this system can be kept inside or outside the house. In fact, you can mount it anywhere in the yard using a Pawpail mounting system, which is sold separately.
Pros
Excellent at controlling odor
Can be mounted in the yard
Comes with 200 poop bags
Can withstand extreme weather conditions like winter or summer
Cons
It is not designed to store raw waste so you must use poop bags. This means extra cost in the long run once the 200 bags included are finished.
---
See also: Best pet waste trash can 
---
Why use a Diaper genie for dog waste
1. Odor control
Odor-free dog poop disposal is one of the most important reasons for choosing a diaper genie over a regular trash can.
With a regular trash can, the smell of poop becomes unbearable, especially during the hot summer heat.
If you don't want to deal with a stinking garage or patio as you wait for garbage collection day, get a diaper genie.
2. Hygiene
Dog poop contains a lot of bacteria that can be very harmful to your health. That is why proper disposal of waste is very important.
With a genie, you don't have to worry about risking your health. The waste is carefully disposed of and locked inside the genie such that children and pets cannot come into contact with it.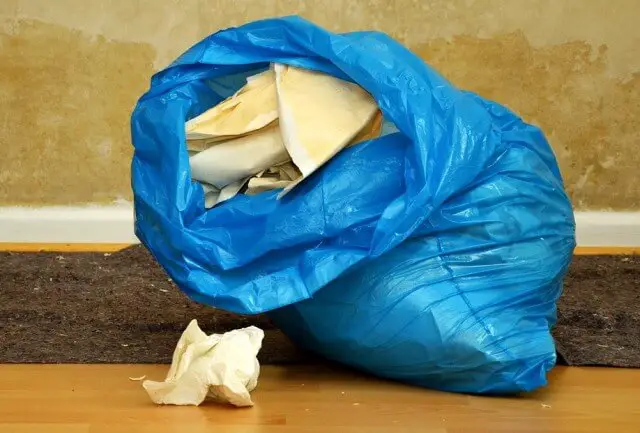 Also, the ability to control odor prevents flies and bugs that tend to spread germs around the compound.
3. Convenient pet waste disposal
If you get a diaper genie with a foot pedal like the Playtex genie, you will find it very convenient.
You don't have to touch the lid when tossing the poop bag. Simply step on the pedal and the lid will open. It's totally hands-free.
Moreover, a diaper genie can be kept anywhere around the compound and not just in the garage. Keep it where you feel it will be more convenient for you such as in the yard.
---
See also: Ways to get rid of dog poop in the yard
---
Conclusion
Getting a diaper genie for dog poop may not be an absolute necessity because you can use your regular trash can.
However, you might find yourself avoiding your garage and looking forward to trash collection day so that you can get some fresh air.
Stinking dog poop is no fun and spending your days in a stinking environment is also not healthy. So get a diaper genie for your pet's waste and enjoy a clean and stinking-free home.