Outdoor showers are the best when it comes to indulging in a luxurious bath in the middle of nature or rinse off the grime of the day from you quickly. There are many varieties when it comes to outdoor showers.
The most basic and easy-to-use outdoor shower is a foot sprayer. You can hook it to an already in-use plumbing line.
The more expensive sides are outdoor showers with dual cold and water settings. Some have a closed space for privacy and sometimes even an adjoined room.
Outdoor showers have a different function from indoor ones. They also provide a thrilling experience. You also must know to stop water from running out of the shower.
How do outdoor showers work?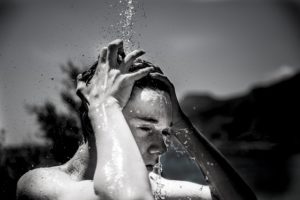 Outdoor showers have a showerhead, water pipes, and valves attached to the water supply. They do not have a dedicated drainage system, like the indoor ones. Instead, these showers drain into the ground. To help divert the water and the flow across the floor, you can use a dry well made out of an earthen pit. The dry well is like a basin for the water to flow into. It is made of landscape fabric, and it collects the shower water and distributes it among the ground. You can install a drain if the bottom under your shower is ill-equipped to absorb all the moisture. There are many types of outdoor showers. Some examples are wall-mounted showers, freestanding showers, foot sprayers, etc.
Methods of Water Heating
For most places with an outdoor shower, warm water is a must. When heating the water for your outdoor shower, you cannot use a simple water heater or geyser as indoor showers use. Instead, you can use a hot water system from inside your house. This method is cost-effective but cumbersome. There are different methods to heat water for your outdoor shower to make your life easy. Let's take a look.
Storage water heaters (tank-type)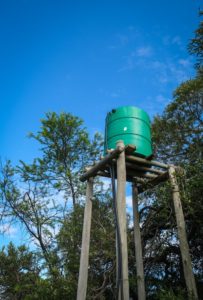 Storage water heaters or tank-type water heaters use electricity to operate. It has a storage tank that increases the heating capacity and gives you a good flow of constant hot water. These are a good option as you do not need to service them often. Storage water heaters are good if you have high usage, such as in an outdoor shower where you will need a lot of hot water. These tanks even allow you to store some hot water for later use. But, one failing of a storage water heater is that they are dangerous or even prove deadly if you install them well. In addition, they can be challenging to deal with as sometimes, they might consume a lot of electricity.
Point-of-use (POU) vs. centralized hot water
POU hot water system and the centralized hot water system are two variants that you can use as your primary heating system for the outdoor shower. When deciding between the two, you need to consider various factors. Some factors are the investment costs, the length of the pipe, the amount of water consumption, installation costs, etc.
Centralized hot water supply 
The Centralized hot water supply has long water lines and uses only 60% of the hot water energy, whereas 40% goes to waste. Central supply lines are pretty standard. They come with long water lines and larger tanks with a very high water temperature. This results in unnecessary energy and water waste. The central heating system heats the water. It then transports it to different points of use through a plumbing line. The water is pre-heated up to 60 degrees C. It mixes with cold water at the tap to result in a warm water combination at the output.
POU hot water supply
Points-of-use hot water supply is also known as 'decentralized hot water supply.' 
Compared to its counterpart, it has very little energy loss and a large amount of usable hot water energy. They use short water lines and have 97% of the usable hot water energy and only 3% loss. Decentralized heating systems have short water lines, use the correct amount of water and temperature, and are energy-saving. The hot water is separated from the heating system. The water reaches the instant heaters that you install at the 'points-of-use' of different appliances and then heats according to the individual requirement. There is no need for additional plumbing or hot water tanks. The losses are low since the water is not pre-heated. These are efficient and modern alternatives to the old centralized water supply system. 
Tankless heaters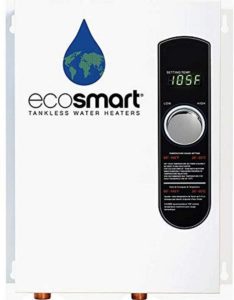 Tankless gas water heaters do not come with a tank and offer no hot water storage. When you turn the faucet on, the flow simply starts, and they will give a continuous stream of hot water. You can attach them directly to the plumbing of your household. This makes them cost-effective and easy as you do not have to spend time and money installing a new plumbing system. Tankless heaters are impressive because they work the same even if the distance increases between the shower and the house. You only have to extend one tube to fit the water heater. You can use the shower seamlessly and do not have to worry about having the shower very close to your house.
Electric shower heads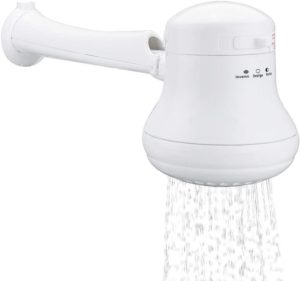 These electric shower heads are a new way of saving energy and reducing maintenance costs. The water temperature in the shower heads ranged between 100 to 108 degrees F. You can tweak the temperature of your hot water tank to suit your needs, and the electric shower head will heat your water as and when required. These are perfect for outdoor showers in cold temperatures. They are electric, so you do not have to worry about the water running cold. They are inexpensive. 
Solar water heaters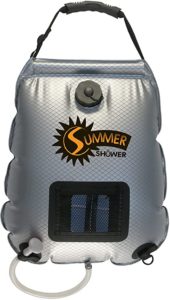 Solar water heaters are affordable, eco-friendly, easy to use, and low maintenance cost. These heaters have a black hose made from high-quality plastic, which curls like a coil, and you must install them in a place in your house which receives plenty of sunlight. The cold water from the plumbing disperses on the coil and heats it as the water goes up to the showerhead. The number of coils around the structure determines how long the hot water supply will last. If you want the hot water supply to stay for longer, you can add more coils.
What is the most energy-efficient way to heat water?
The most energy-efficient way to heat water is to use a solar water heater. Solar energy is renewable and available in plenty. The installation of a solar water heater is manual and easy. You do not have to worry about servicing or maintenance once you install it. These heaters will save your money and the cost of installing a new plumbing system. The coils used in solar water heaters are readily available, and you can increase or decrease them based on the temperature of the water you need.
Different Types of Water Heaters for Your Outdoor Shower
EccoTemp L-10 Water Heater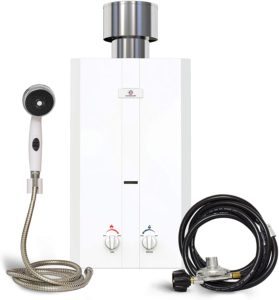 The Eccotemp L-10 Portable Propane Tankless Water Heater is a perfect choice for outdoor showers. It comes with a 20 lb propane tank, and you can enjoy hot water outside seamlessly. The L-10 heater can reach 50 to 140 degrees F and comes with electric ignition. The ignition uses 2 D cell batteries to operate, so you can use them in places where electricity is unavailable. According to the company, the proper operating range for the appliance is running at 20 to 80 PSI. You can adjust the gas flow and the water to suit the temperature you want. The machine also comes with a garden hose adapter for miscellaneous use, one hardware pack, pipe tape, and a connector set. It has a 1-year warranty, as well. It is perfect for use in an outdoor shower and camping with you. The portability is excellent and, overall, a good choice. Get it from Amazon here.
Tankless Gas Water Heater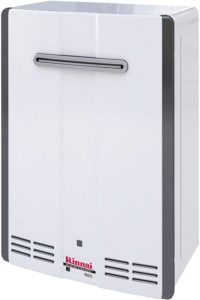 Tankless Gas Water Heaters have to be hooked to a gas-supply line that will ensure enough pressure to heat the temperature to your minimum requirement. Gas Water Heaters are affordable and user-friendly. When selecting a Tankless Gas Water Heater, you need to ensure that you meet your flow rate conditions and BTU. Gas tankless water heaters will reduce energy consumption because the water is heated on-demand. Therefore, there would be minimal wastage. The water will be in endless supply and fresh, as it does not sit in a tank or come in contact with rust or mineral deposits. Gas tankless heaters are also small and save up space. 
Heated Outdoor Shower
You can use a lot of different options for a heated outdoor shower. For example, solar showers or Off-Grid Outdoor showers will lend you a lot of space, look good, and you can customize them to suit your needs.
Portable propane water heater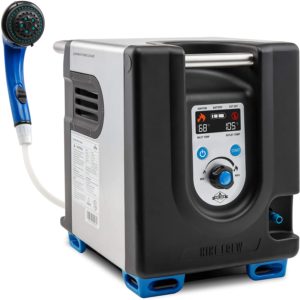 Portable propane water heaters are more prevalent in the industry. These heaters are portable, and you can take them with you for outdoor activities such as camping. They do not use any electricity. The only energy requirement you need for these is to have liquid propane handy. If you have a 20-pound tank of propane, you can expect your heater to run for 20 hours' worth of showers. These are inexpensive, easy to use, and compact.
FAQs
How long will the water heater stay hot without power?
The amount of time the water will stay hot in the heater without power depends on how big your tank is. This question is invalid with tankless water heaters as they have no storage space. But with tank water heaters, the water stays warm for up to a day or two. Of course, other factors such as the location of the heater and the insulation also affect the time that the water can stay warm.
Does a water heater use a lot of electricity?
If your water heater runs on electricity, then you can expect it to use a lot of power while in use. A typical water heater uses 3kWh of electricity every hour. However, water heaters only run up to 3 to 4 hours per day in most cases. That means you end up using up to 4000 to 5000 watts of power. So in your electricity bill, your water heater uses up a considerable chunk. To save up on the cost of using an electric-run water heater, consider investing in solar heaters.
Is it cheaper to heat water with gas or electricity?
Using gas-powered water heaters takes up very little energy (33% less) than electric water heaters. Gas heaters are also cheaper.
What is the cheapest way to heat water?
According to statistics, the cheapest method to heat water is natural gas. Electricity comes in a close second when using energy to heat water. So even though solar heaters are a little expensive when you buy them, they can save you a lot of money in the long run.
Wrapping Up
When thinking of different ways to heat your outdoor shower, you will need to consider electricity usage, location, use, and proximity to the house in mind. The cheapest method of all when it comes to heaters for outdoor showers is tankless gat heaters. The most eco-friendly ones are solar power-operated heaters. Depending on your budget and needs, we hope that this guide gave you an overview of different ways you can heat water for outdoor showers.