It is evident to every one particular about cleanliness and the spotless appearance of their bathrooms, that hard water stains are the worst. Not only do they look ugly, but they are a hassle to clean. Ultimately, you have to end up changing your faucet entirely, spending a lot of money in the process. Then, it is the best decision to just invest in a faucet that comes equipped with weapons to fight water hardness.
We have compiled this guide to help you pick the right faucet to prevent the water hardness from leaving any unsightly marks. Our best recommendation is the Moen 84144SRN Sarona Bathroom Sink Faucet. Read on to find out why.
Here are the best bathroom faucets for hard water (our picks)

If you prefer widespread faucets and high-arched spouts, this Kohler model is perfect for you. The high arc gives a lot of space below the fixture, and the design is pretty ergonomic and intelligent. The faucet shape is easy to clean and maintain. The handles are winged, which prevents them from being imprinted on with prints. 
Also, Read – Best Shower Curtain for Clawfoot Tub (Extra Wide)
Kohler is famous for its finishes. The same can be said for this one as it holds quite well with hard water. It also comes with premium ceramic disc valves, giving it a lasting life.
Key Specifications:
Material: Metal

Finish Type: Brushed

Handle Type: Lever

Spout Height: 4.75 Inches

Handle Location: Wide-spread

Spout Reach: 4.5 Inches

Installation Method: Widespread

Number of handles: 2
Pros:
Kohler's faucet comes with a Dry Stem Technology that helps in controlling water flow, and temperature

Brushed nickel is best for the anti-corrosive finish

Smooth design

Easy to clean

The lift rod is hidden and does not come in the way
Cons:
The polished chrome finish can show water spots if not cleaned well

Is more prone to being imprinted on by fingermarks, etc.

The Delta 15999 is a beautifully designed polished chrome design. It uses Delta's Diamond Seal Technology to prevent leaks and backs it up with a limited lifetime warranty. 
The polished chrome look makes it easy to clean and gives it a "stainless" appearance.
The water spots do not show up on the surface, and it has a good enough height at 10 inches. Not only is it on par with the Moen model, but it also is excellent for use. It is a favorite recommendation amongst professionals for hard, water-resistant taps.
Key Specifications:
Mounting Type: Deck Mount

Material: Metal

Finish Type: Brushed Nickel, Stainless

Handle Type: Lever

Spout Height: 6.25 Inches

Handle Location: Single-Hole Deck-Mount

Spout Reach: 5.5 Inches

Installation Method: Deck Mounted
Pros: 
The stainless finish hides water spots very well

Tall design for easy maintenance

Elegant look matching most bathroom decors

Lifetime warranty

Value for money
Cons:
The water does not flow out at an angle but straight under the faucet

Plastic parts that come along are not as premium as the product itself

The Delta Faucet Windemere is a polished brass faucet which you can easily install onto sinks which have a 4-inch center space. It has a little quirk of coming with the matching drain assembly to give you a uniform look. The dual handle design is easy to navigate. The spout can even rotate an entire 360 degrees. 
Also, Read – Best wood for bathroom cabinets
It is built to always have a shine to it. The company boasts of using a long-lasting finish that will not fade, rust or tarnish with use. It even comes with a Lifetime Limited Warranty.
The unique feature about this piece is the side sprayer as well. It is easy to maintain and looks elegant.
It is pretty credible as it comes with a certification from WaterSense and is value for money.
Key Specifications:
Mounting Type: Deck Mount

Material: Brass

Finish Type: Bronze

Handle Type: Lever

Handle Material: Brass

Spout Height: 5.88 Inches

Handle Location: Centerset

Spout Reach: 5.13 Inches

Installation Method: Deck Mounted
Pros: 
Dual handle design

Corrosive resistant

Eco-saving

Polished brass

WaterSense certified

ADA compliant

Same finish drain assembly included
Cons:

The BWE Waterfall single handle bathroom faucet is unique due to its oil-rubbed bronze look. It is designed to be deck-mounted with a solid bronze build. 
You can install it on a center set sink or a single-hole sink according to your convenience. You can also purchase an additional cover plate to use on a widespread bathroom sink. 
It comes with a protective ceramic valve, and the company claims that it can survive up to 600,000 times open and close tests. It is chic, stylish, and easy to operate. The only cons are that it does not come with add ons like a lift rod or a pop-up drain block.
Key Specifications:
Mounting Type: Deck Mount

Material: Brass

Finish Type: Bronze

Handle Type: Lever

Handle Material: Metal

Spout Height: 2.1 Inches

Handle Location: Single Handle

Spout Reach: 3.9 Inches

Installation Method: Surface Mounted
Pros:
No drain assembly is needed

The oil-rubbed bronze gives it a rustic, antique look

Easy temperature adjustment

Easy to install

No leakage
Cons:
Pop up the drain and lift rod are not included

Soldered screen

The BWE Waterfall Brushed Nickel faucet has a single handle with a 3 or 1 hole deck mount design. It is made with brushed nickel finishing to provide an efficient shield against water hardness. The faucet design is elegant and modern and will match well with all types of bathrooms. It has a ceramic disc cartridge which ensures a smooth mechanism. 
You can install it either in the 3 or 1 hole installation method. BWE Waterfall will give you a non-obstructed flow of water without restraining the pressure or hard water resistance.
Also, Read – Best Bluetooth Bathroom Fans
Along with a wrench, they also include a cover plate and high-quality water supply lines that will help protect your piece.
Key Specifications:
Mounting Type: Deck Mount

Material: Brass

Finish Type: Brushed

Handle Type: Lever

Spout Height: 2.1 Inches

Handle Location: Single Handle

Spout Reach: 3.9 Inches

Installation Method: Single Hole
Pros:
Contemporary design that goes with most home interiors

Low use of GPM

Efficient water flow

A wrench is included for better installation at home
Cons:

The ENZO RODI faucet is easy to install on your own and is traditionally built. It is designed for a widespread installation, specifically three holes with 8-inch spread.
The most striking part about the model is its highly reflective chrome finish. It is so shiny that it is almost mirror-like. This premium chrome coating prevents the peeling of paint and corrosion in daily wear and tear. 
The piece is built for durability as it is encased by metal on all sides and boasts a built-in ceramic cartridge and a Neoperl aerator. The faucet has a two-handle lever which makes the control of temperature simple.
It also comes with a lift pop-up drain assembly for the sink, which you can use if you would like.
Key Specifications: 
Mounting type: deck mount

Handle type: lever

Handle material: brass

Spout height: 4.25 inches

Handle location: widespread

Handles: 3

3-year limited warranty

Colors: polished chrome, brushed nickel
Pros:
Chrome finish makes it highly reflective

Easy to install for widespread installation

Heavy-duty brass is used

Corrosion-resistant

Includes drain stopper assembly
Cons:
Comes with a pre-installed supply pipe which you will have to remove before installing

The Moen 84144SRN Sarona Bathroom Sink Faucet is our glowing recommendation to solve all your faucet needs. Not only is it beautiful to feast your eyes on, but it comes with an elegant "spot-resist" brushed nickel finish. 
The height of the faucet is also a vital element in figuring out where the water is going to splash. This faucet is impressive because it is at that height and close to the body of the tap in a way that the water will not splash far away. The shape of the tap is also extraordinary. It is a slightly curved arc that makes it easy to clean on all sides. 
The 'spot-resist' feature that it boasts of is built to repel water stains and fingerprints. Of course, if you invest in a faucet, you need it to look effortlessly spotless. The Moen Sarona faucet does just that. With an occasional clean wipe, it is always going to shine.
For the quality, the build, the height, and the finish of the product, it is not expensive at all, which is all the more impressive as it makes for a viable option for everyone. 
The biggest selling point it offers is its lifetime warranty on the Moen faucet. 
Key Specifications:
Mounting type: deck mount

Finish type: brushed

Handle: lever

Spout height: 5.75 inches

Colors: Spot Resist Brushed Nickel, Mediterranean Bronze
Pros:
The side-mounted single handle is very easy to operate

Spot-resistant finish that does what it promises

The rustic build

Easy to install on your own

Can be fitted using a 1 or 3 hole installation

Easy to wipe with a cloth
Cons:
Might be difficult for left handed customers to use
Why Do You Need a Bathroom Faucet For Hard Water?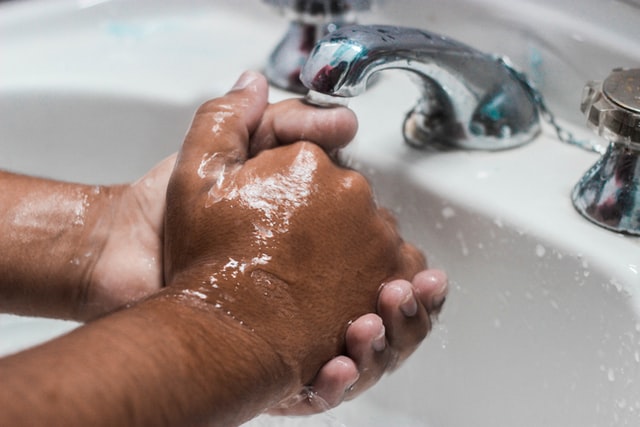 The main reason you would need a hard, water-resistant bathroom faucet is that your space can look aesthetically pleasing. Hard Water leaves stains on the sink surface and makes the faucet lose its appeal. The mineral content in hard water also causes a build-up that can clog up and ruin the look of the faucet and mess up the plumbing. 
To make sure that your faucet runs smoothly and looks eye-pleasing, you need to invest in an excellent hard, water-resistant faucet. Not only will they look pretty, but they will also help to stop any clogging up of the residue. Most of these faucets use ceramic sealed surfaces, making them immune to the effects of hard water.
Over the years, technological advances have made it possible for these faucets to come equipped with anti-corrosive chemicals. This ensures that they don't lose their shine or luster even after years of use.
Another compelling reason to invest in a hard water faucet is that the other faucets will not last very long in hard water. This way, you will end up saving more money and reducing the hassle of changing your faucet every few months.  
Buying Guide For a Bathroom Faucet For Hard Water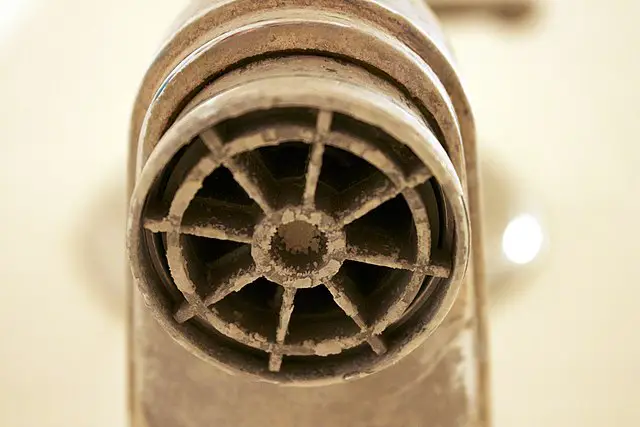 Before deciding on what faucet to buy for hard water in the bathroom, there are some factors you can go through. 
1. Product's Finish
How the product is made and how it looks goes a long way. The finish is the coating or the core material used in making the faucet. There are different types of finishing as follows.
2. Stainless Steel
Stainless Steel faucets may look more expensive, but they are very durable and some of the best to have. The water spots will not be as visible on a stainless steel faucet.
3. PVD
PVD stands for Physical Vapor Deposition, which ensures that the surface is primed in a way that it will reduce or be immune to abrasion or any discoloring on the faucet.
4. Gold Plated
Gold Plated faucets are naturally very expensive. Gold is a pure metal that naturally evades corrosion, so you do not have to worry about the stains showing up.
5. Nickel
Nickel is durable and easy to clean. These options are more affordable as well. There are several varieties of nickel faucets such as brushed and satin ones.
6. Type
1. Single-hole faucets
These faucets are easy to install because there is just one part of the faucet that goes into the surface. You can do this at home if you have the right equipment. These faucets usually have just one handle, but some pieces have two handles that come for both cold and hot water.
2. Centerset faucets
These types of faucets are very commonly found, and just like the single-hole ones, they are easy to install. The centerset faucets have a handle and the spout and fit well in ready basins.
3. Widespread faucets
These are larger in size. They are around 8 inches and also some small versions that are about 4 inches. These are more expensive because there are several ways you can place them and install them. These also have two different valves for cold and hot water.
4. Wall-mounted faucets
Wall Mounted faucets look high-end because of their placements. They do not take up surface space and are easy to maintain. But, since they are wall-mounted you will need the help of a plumber to fit one correctly.
7. Height of the Spout
This is a factor that many overlook while buying a faucet. You need to decide how tall your faucet can be, depending on the bathroom space you have available. If you place your faucet under a sink or a shelf, you will need to measure the arc height in advance before making your decision.
8. Handles
Handles of faucets vary depending on what type they are. Most faucets have one or two handles. Usually, you should go in for a two-handle one, as it can make the temperature choices easy.
9. Spout
There are two major types of spouts available when it comes to faucets: aerated and non-aerated. Non-aerated spouts do not need a blocking screen to stop the water. Aerated spouts, on the contrary, can help to restrict the flow of water and direct it into the path chosen. These spouts will boost the pressure of the water a lot. Non-aerated spouts are best if you want undiluted water rushing at you, giving you a feeling of standing under rain or under a waterfall.
10. Size
The size of the faucet depends on the size of your sink. The bigger the sink, the bigger the faucet size you can go in for. As a tip, don't go in for a very big faucet as you will just end up splashing water everywhere.
11. Self Installation or Professional Help
Some faucets will need the help of a professional to be installed in the right way. Some faucets are pretty simple and you can install them on your own. This is also an important factor to consider as you will end up saving more if you go in for an easy-to-install faucet.
Frequently Asked Questions
How to Identify Hard Water?
Hard Water is called that because it contains mineral build-ups such as magnesium and calcium ions. This makes soap less effective on them. Hard water leaves traces, so it will be easy to identify if you have hard water or not by observing the surface of your bathrooms. 

Hard water marks look like scales, and you can find them on plumbing, sink tops, and faucets. 

Some ways can assure you whether or not you have hard water. The most common tests are as follows.

Take a clear bottle and fill it up with a significant amount of water, like 300-350 ml. Add 10 to 12 drops of liquid soap into the bottle of water. Soap reacts to hard water more, so this will give you an estimate of how much hard water your tap water has. Shake the bottle well. When you open it, look for soapy bubbles on the top. If your water is very soapy, that means the hard water concentration is more, and vice versa. To check further, add more soap. The hard water level will depend on how many drops of soap you need to add to make the soap suds appear. If you end up using 30-40 drops to make the soap suds appear, then your water is hard. For best results, use liquid hand soap for this experiment.
Which Is Easier To Keep: Chrome or Brushed Nickel?
Chrome needs more maintenance than Brushed Nickel. You can scratch chrome easily, and harsh chemicals can adversely affect how the faucet looks. Strips of chrome may start peeling out if you are not cleaning them. If you don't want to spend a lot of time maintaining the faucet, go in for the Brushed Nickel one.
Wrapping Up
Overall, we have determined that the best recommendation for the all-in-one faucet is the Moen 84144SRN Sarona Bathroom Sink Faucet. The brushed nickel design makes it look appealing and more durable. The features of the Moen faucet surpass those of its competitors, and it is the bathroom hard, water-resistant faucet to pick.
Not only does it lend a beautiful appearance to the bathroom, but it also helps save a lot of water. It is pretty easy to use, and you can fix it all by yourself. With careful maintenance, it will last you for a very long time.
We hope this guide has helped you pick the right rugged, water-resistant faucet for your bathroom and answered soe=me frequent questions that buyers have.