Sinking cushions should not force you to throw away a good couch unless you are tired of it and want to get a new one. If the cushions are sinking or sagging, choosing the best couch cushion support would be a perfect solution rather than getting a new couch or sofa.
Cushion supports bring new firmness and support to couches, sofas, love seats, and even recliners.
They are easy to fix so you don't need to hire a professional. You just need to slip them under the cushions and the firmness and comfort of the seat will be restored instantly.
Best Couch Cushion Support For Sofa in 2022
If you've been looking for couch cushion supports, look no further than the list we've put together for you!
Best Sagging Couch Support Comparison Table
Best Couch Cushion Support Reviews 
1. Evelots Sofa/Couch Cushion Wood Support

This cushion support is 5 feet long with 6 adjustable 9-inch panels.
The panels can be folded to fit loveseats, chairs, and recliners or unfolded to fit sofas and couches.
Installation is pretty easy and no tools are required. If you want to place them under your sagging chair or recliner, simply fold the panels and place them under the cushions. To use couches and sofas, unfold the panels and place them under the sagging cushions.
The supports are very easy to clean since they are made of pressed wood with a protective layer of black vinyl.
Pros
Can be adjusted to fit couches, sofas, recliners, chairs, and loveseats
Easy to clean
Very sturdy
Provide adequate support for sagging cushions
Works behind the back cushion too
Easy to install
Cons
If your seat is sagging too much, you may need to get 2 of these cushion supports for better firmness and comfort
---
2. Sagging Sofa Cushion Support

These cushion supports are made of high-quality vinyl-covered particle board.
They can be used to support chairs, sofa, or love seat cushions to give the seats a new look and prevent sagging.
The chair supports measure 19×22 inches while the sofa supports measure 19×66 inches. You can also get one for the love seat, which measures 19×44 inches. So you need to measure your seat before purchasing the support.
Pros
They help to improve posture as you sit
Very firm and sturdy
Easy to fit
Can be used as a bed support
Can be folded
Cons
Some users find it a little thinner than  expected
---
3. LAMINET Deluxe Extra Thick Sagging Furniture Cushion Support Insert

These cushion inserts are thicker than the standard supports from competing brands.
They are made from heavy-duty wood and covered with heavy-duty vinyl so that they are easy to clean.
To install, place them under the seat cushions. You can fold them to fit a standard chair or recliner or unfold them to fit larger furniture like coaches and sofas.
Pros
They are 60% thicker than competing brands
Can be folded or unfolded to fit a variety of furniture
 Helps to stabilize the springs of the couch
Firms up the sofa, chair, recliner, and couch very well
They are very sturdy
Cons
---
See also: Best leather color restorer
---
4. Bandwagon Sagging Loveseat Support

You can prevent your cushions from sagging using this Bandwagon support.
It is made of a highly durable vinyl-covered particle board that measures 19 x 44 inches when fully extended and about 1 inch thick.
To fix it, just unfold the panels to the appropriate length and place them under the seat cushions.
Pros
Increases the firmness of the couch
Very easy to install
It is very sturdy
Easy to clean
Cons
Some users feel that it's too thin though firm
---
5. Sagging Recliner Support Seat Cushion Repair Kit

If you have a sagging recliner, reclining loveseat, or reclining couch, get this cushion repair kit.
The support consists of 3 pieces of specialized cross-linked polyethylene material each measuring 6 x 18 x ½ inches.
Although installation does not require any tools, you need to put in some effort.
First, turn the recliner upside down with the footrest extended. Fix each support piece one by one above the seat springs pulling one spring at a time.
The support pieces should rest against as well as push up the seat cushion from below in order to provide support and firmness.
Before placing your order, first, check the springs of your seat to see whether they are accessible. The seat should not have coil springs or strap webbing and the springs should not be broken too as it will not be possible to install these cushion supports.
Pros
Works great for lazy boy recliner
Helps to restore the firmness of the seats
Very comfortable
Cons
Work only on attached seat recliner with zigzag springs
Not very easy to install
---
See also: Best rocking chair cushions 
---
6. Buzzlet Deluxe Thicker Sagging Furniture Support Insert

Add this strong yet durable support board under your seat cushions to restore its shape.
The insert is made from high-density fiberboard divided into panels, which can be folded to fit smaller seats like loveseats and chairs or unfolded to fit couches.
On each side of the support, there is webbing with holes that allows the support to be fixed firmly onto the seat frame using screws.
Most importantly, you don't have to worry about getting scratched by the edges of the panels because they are well covered with thick canvas.
Pros
Durable
Very stable and sturdy
Attachment screws included
Protected edges
Easy to clean
Cons
Might not fit very wide sofas
How To Choose The Best Couch Support Slats And Inserts
1. Material Of The Support
As we have seen in our reviews above, most couch cushion supports are made of particleboard, wood, or fiberboard. Others use foam, which might not be as strong as wood or particleboard.
The material used also determines the stability or rigidity of the support. So when choosing the inserts, pick the one that feels firm and offers maximum support when the seat is sat on.
2. Extent of The Support You Need
It is important to consider the extent of the sagging before picking the type of support insert you need.
This is because couch supports will not prevent your couch from sagging if the cause is broken springs. In this case, you might have to replace the springs.
The supports work best if the frame of the seat is broken or the cushions have lost their firmness. The supports are strong enough to provide additional support without having to replace the broken frame.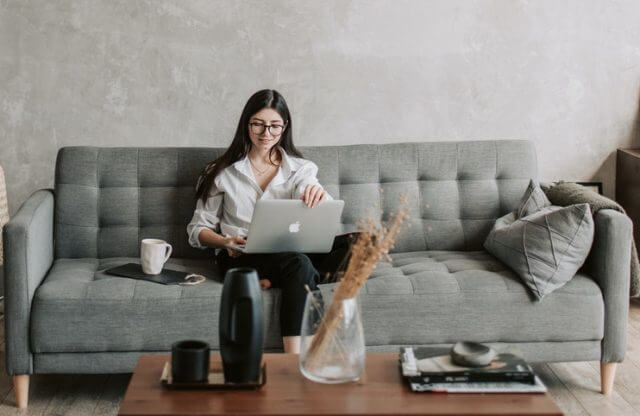 3. Size Of The Cushion Supports
Cushion supports and slats come in different sizes so have to fit different seats such as loveseats, sofas, recliners, chairs, and couches.
In order to cater to the different seat sizes, the supports are foldable. So you can adjust them to fit different seats in your house.
Nonetheless, you are strongly encouraged to measure the length and width of seats under the cushions so as to choose the right size.
You don't want to buy one that extends past the cushions since it will be visible and will make the seats very uncomfortable to seat on due to being pricked on the legs.
---
See also: Is it sofa reupholstery worth it? 
---
FAQs
1. How to replace couch cushions?
The first step is to know which cushion foam works the best for you. You should pick durable ones that live longer, so you can choose either memory foam or polyurethane foam. The next step is to measure the cushion, so it is easy to determine the size of the filling you need. 

2. Why do cushions sag?
Cushions come with a softer filling which can compress over time. This causes them to sag. Improper weight balance can also throw them off. Cushions typically also sag if the serpentine springs within the couch frame are loose. They have to be reattached and secured to prevent them from loosening again. Sometimes, you must replace the springs if they are broken from their attachments.  

3. How to prevent the cushion from sinking?
The simplest way is to fluff the cushions so they do not sag often. Remember to flip them regularly as well. Another way to lessen the sagging effect is to wash your cushion covers so that their shape is retained. Investing in good quality furniture is also helpful since sagging can be caused by the couch too.

Conclusion
There is no need to throw away your perfectly good couch just because it is sagging. As discussed in our previous article, there are things you can use to provide support like adding foam inserts and more fiber.
In this article, we have reviewed the best couch cushion support, which can help to make the seat firm and comfortable once again.
You can also hide power recliner cords using different methods to make the room look good.
The supports are very easy to fix under the seat cushions. Other than cushion supports, there are other ways you can make the cushions firmer such as by using foam inserts and plywood as discussed in our previous article.