Are you having a hard time sleeping and wondering what to put on windows to keep heat out and light?
The free heat energy we get from the sun can make you feel very uncomfortable in your own house and especially in the summer.
Keeping the doors and windows closed and leaving the air conditioning unit on all day and night might not cut it with the high summer temperatures.
That is why people often turn to other easy options to keep the heat out such using blackout curtains, cardboard, and sunblocking window covers among others.
So let's discuss some of these options that are readily available.
What to put on windows to keep heat out
Here are some effective ways through which you can reduce solar heat and help you sleep or relax in the house without feeling like you are in a sauna.
1. Sunlight Blocking window cover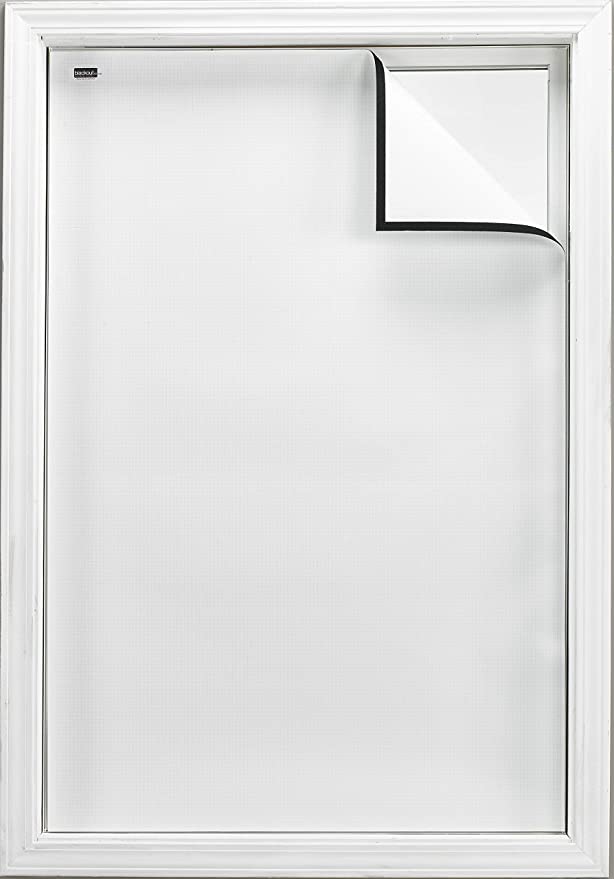 Sunlight blocking window covers are specially designed to completely seal off the light and heat.
They tend to be more effective than shades, blackout curtains, and blinds because they seal tightly even along edges of the window frame where heat and light tend to pass through.
Blackout EZ window covers are a perfect example of these sunlight blockers. They are white on the outside to reflect light while the inside is black to complement your room décor.
They are very easy to install and do not require any measurements or rods and hooks. Simply place the Blackout EZ over the window and then press the edges so as to seal it.
You can remove and reinstall them every day and the adhesive-backed hook and loop Velcro will still stick even in the extremely hot in summer or cold in the winter.
These blackout shades are particularly useful for people who work at night, kids napping, and home theaters.
2. Blackout curtains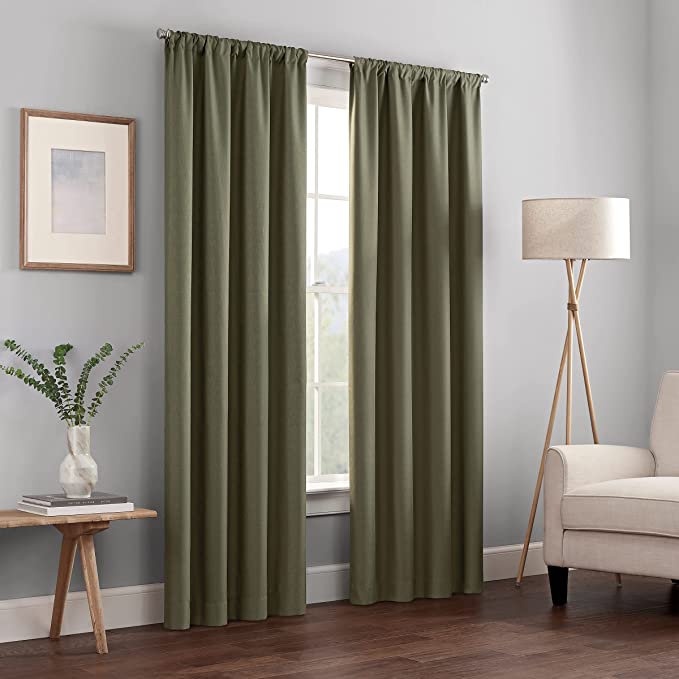 If you don't like the idea of sticking something on to your windows, you can use blackout curtains.
These curtains are made of a heavy or thick fabric that helps to block light, reduce outside noise, and insulate against heat and cold.
High-quality blackout curtains can reduce the amount of heat getting into the house by about 99% and reduce noise as well.
For instance, Eclipse thermal insulated curtains block 99% of light and minimize noise by 40% from the outside environment.
Blackout curtains also come in handy during winter to trap in heat and prevent the cold from getting in; hence, keeping the room warm.
3. Shades and Blinds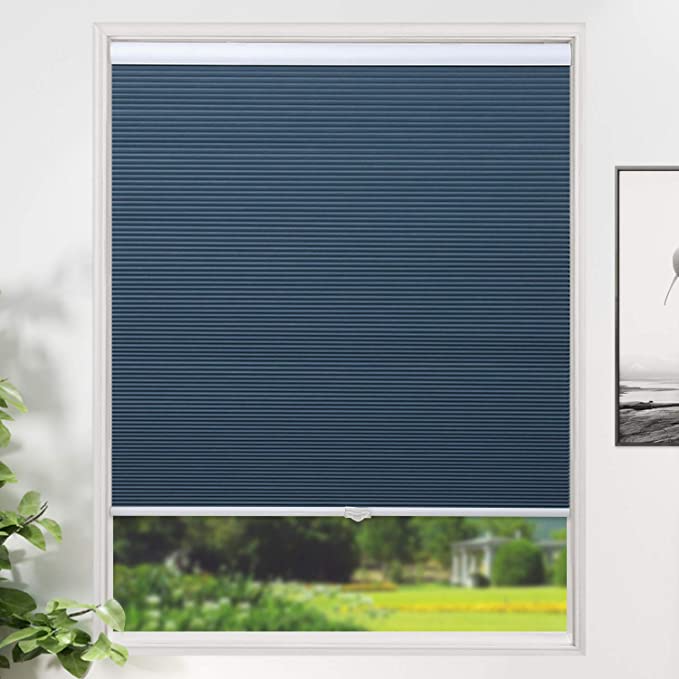 Shades are perfect for keeping heat out by blocking harsh UV rays and sunlight.
They also help to keep the room ventilated to allow the free flow of air in and out.
Window shades come in different fabrics, weaves, and colors. You can choose the one you want based on the purpose of shades and where you want to install it.
For instance, fabric shades like this SUNFREE Cellular Honeycomb window shades are the most suitable if you want to insulate your home in the summer or winter.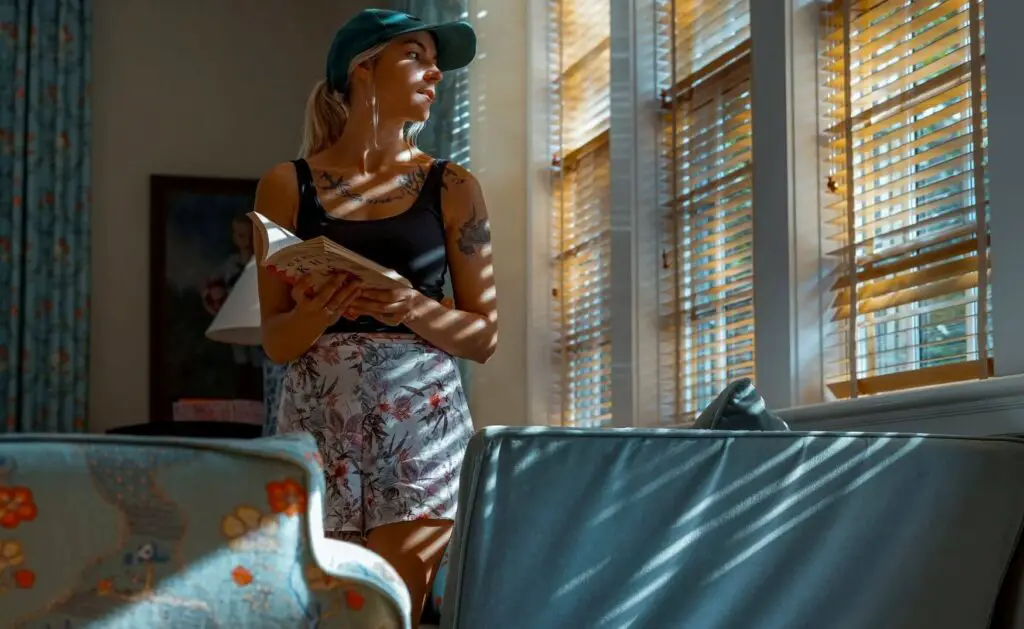 They help to trap air between the room and the window thereby keeping the room cool in the summer or warm in winter.
Also, they have a built-in aluminum foil that helps to shield the room from the sunlight and UV rays.
4. Black fabric cut to window size
If you are a DIY person, then this option will appeal to you.
All you need to do is choose a black fabric that you like. The size will depend on the size of the window you want to cover.
The fabric may work on its own but if you want to darken the room completely; you will need to add a blackout lining. The lining will help to keep out heat and light and reduce noise.
Alternatively, you can simply buy a thermal insulated fabric and then cut it to the size of your window and install it.
---
See also: Best cushions for rocking chairs
---
5. Display cardboard
Another tactic to keep heat out is to cover the window using cardboard.
You can get cardboard from old packing boxes, or purchase it from the store.
The cardboard will help to reflect sunlight away from your windows and; thereby, keep the room cool even when it's extremely hot outside.
To install it, simply cut it to the required size and secure it on the window using scotch tape.
6. Black rubber shelf liner
The black rubber shelf liner works in the same way as the sunlight blocking window cover.
Since black color is known to absorb heat more than other colors, the black rubber shelf liner will help to absorb the heat and keep the room cool.
7. Aluminum foil or tin foil
Covering the windows with a reflective material such as tinfoil or aluminum foil can help to not only keep out light but also heat.
Both aluminum and tin foil tend to reflect heat away; hence, keeping the room cool.
Installation is pretty straight forward. All you need is to cut the foil according to the size of the window and stick it using tape.
Moreover, the foil is not transparent so it provides privacy as well.
8. Solar Window Film
Solar film is designed to minimize the amount of sunlight that passes through the window thereby preventing the house from getting too hot and uncomfortable.
Solar films come in different types and grades based on their performance in regards to reflecting light.
Choose the most suitable grade for your house depending on how much you want to maintain the internal temperature.
When it comes to application, you may want to consult a professional. The film is applied in a way that the external side reflective light during the day so as to keep the house cool.
The solar film is said to be much more effective than blackout curtains and blinds because they block light but still allow you to see outside.
---
See also: Best support for sagging cushions 
---
9. Windshield sun covers
As aforementioned, any reflective material can be put on windows to minimize the amount of heat that passes through and hence keep the room cool.
Windshield sun covers are meant to protect the car's interior by reflecting sunlight away from the windshield and windows.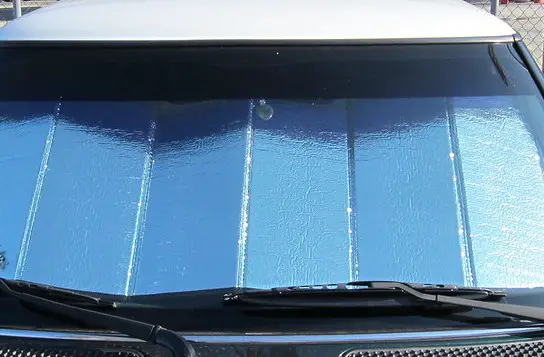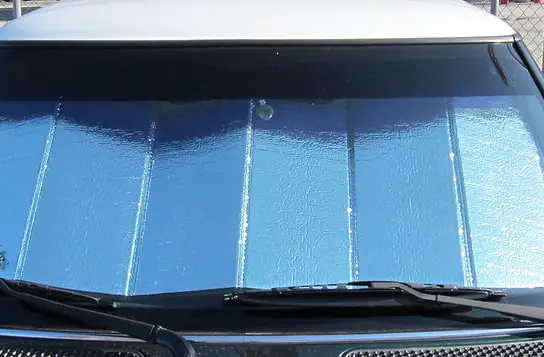 Similarly, the covers can be installed on windows using tape so as to reflect light away from the windows and help reduce the temperature inside the house.
---
See also: How to stop air from leaking around a door
---
Conclusion
When you cover your windows, you reduce energy loss, lower heating and cooling costs, and improve home comfort.
From the list above, we have discussed what to put on windows to keep heat out and light. You can try all of them and see what works best for you.
Some of the ways discussed above, such as displaying cardboard, are almost cost-free, so you should not stay in an uncomfortable home if you are short on funds.