The task of cleaning your shower can be grueling and challenging, especially when you have realized that mold and dampness have penetrated through the grout and tiles. Protecting your shower with a waterproofing membrane is the best way to keep your shower safe from water damage, rust, mold, and mildew. 
This guide will walk you through a list of some of the best waterproofing membranes for a shower. We also walk you through the best system for waterproofing a shower and the benefits of using a waterproofing membrane. Finally, we'll take you through with a buying guide explaining what you need to look for in a shower membrane.
Also Read: How to Get Rid of Drain Worms in Shower?
Let's dive right in. 
6 Best Waterproofing Membrane For a Shower: Reviewed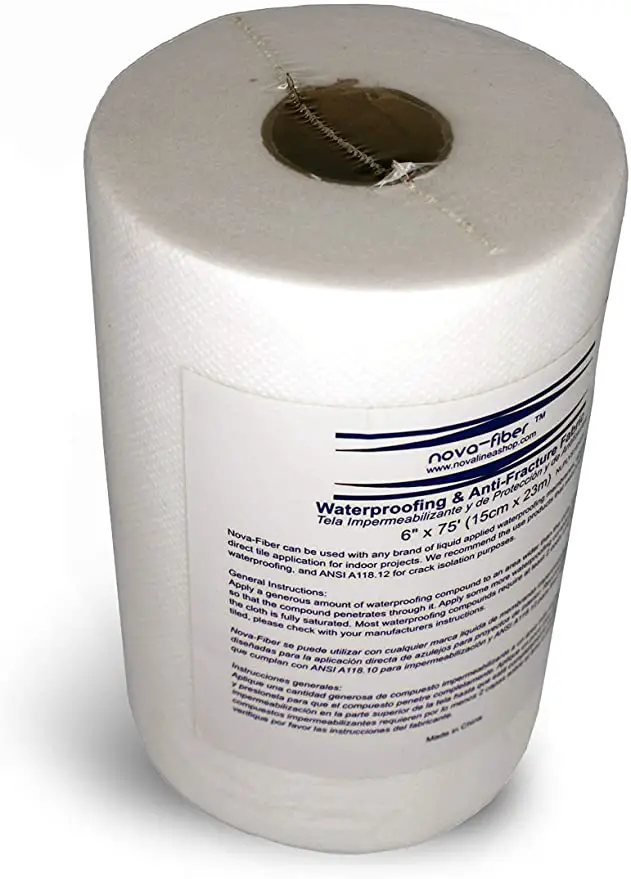 The best waterproofing membrane that we could find is the Nova-Fiber reinforcing and anti-fracture mesh tape. This product is an improved and updated membrane version that helps keep water damage at bay. One of the best features of the Nova-Fiber membrane is its flexibility. It is made from polymer and not fiberglass. Let's look more closely at the specifics of this product: 
Key Specifications
This waterproofing membrane is made from a synthetic polymer and alkali-resistant synthetic fibers. 
It does not contain any fiberglass. 
You can use it with any liquid and latex-based waterproofing membranes.
It works with products like Redgard, AquaDefense, Hydro Ban, and Hydro Barrier, among various others.  
Pros
This waterproofing membrane is highly flexible, making application in your shower easy. 
It is straightforward to use, so you don't need any prior knowledge of membrane installation. 
You can lay tiles over this membrane without any problems. 
It helps protect your shower from developing cracks in the grout. 
Cons
It would be best to prepare the shower wall with a liquid membrane. Therefore, you cannot apply this tape onto your shower walls directly without preparing them first. If you don't have the time, budget, or experience, this waterproofing membrane tape might not be the best option for you. 
– – –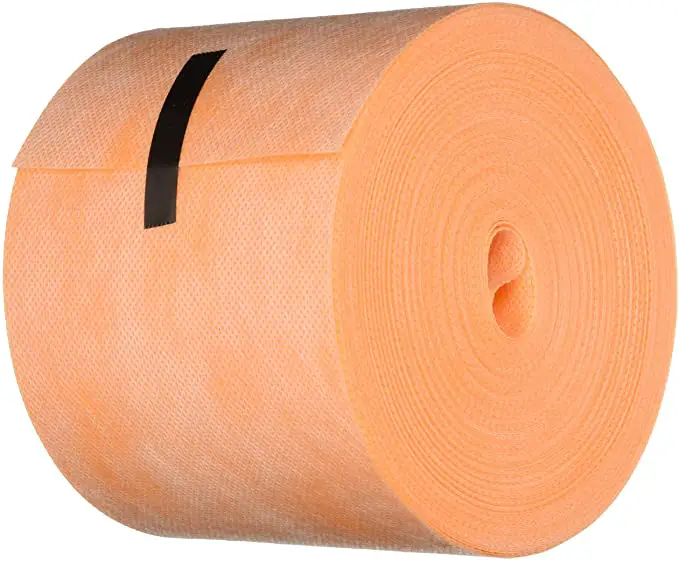 Our second pick is the Schluter Kerdi-Band. This waterproofing membrane helps prevent moisture and rot from building up underneath your bathroom tiles and is ideal for small or medium-sized showers. 
Key Specifications: 
A roll of this membrane is 98 feet long and five inches wide. 
It is four millimeters thick. 
It adheres to the shower floor and wall very well. 
You can use it with stone and ceramic tiles. 
This membrane is made from a modified polyethylene substance. 
Pros: 
It is cost-effective for users on a budget. 
You can install it easily without needing much help. 
It adheres to drywall very well. 
Cons: 
The installation process is quite time-consuming.
– – –

Our next pick is the Laticrete Waterproofing Membrane Fabric. A great feature of this product is that it is multipurpose! You can use it to waterproof a swimming pool, fountain, terrace, or a homemade garden pond. This membrane offers excellent protection against cracks, making it a stand-out product that we cannot recommend enough. It is also easy to install! Once you've put down a layer of a liquid membrane, all that's left to do is add the Laticrete fabric, and you're done. Let's look more closely at its specifics. 
Key Specifications: 
It is made from fiberglass fabric and forced rubber to help protect your shower tiles from cracking over time.
Each roll of this membrane is 75 feet long and six inches wide. 
Pros: 
Many users have reported that this fabric membrane works very well with liquid waterproofing membranes, such RedGard. 
It is effortless to apply. 
One roll of this fabric membrane is enough to cover a small or medium-sized bathroom. 
It adheres to a liquid membrane very well. 
Cons: 
This membrane might be too thick to fit into the small corners of a shower. 
– – –

Our next pick is the X Fasten Fiberglass Waterproofing Anti-Fracture Membrane Fabric Tape. This product is in our top five because of its affordability and effectiveness! It forms a protective barrier against moisture in your shower. It prevents water from penetrating the surface and damaging the tiles and foundation. One of the most notable features of this fabric tape is that anyone can use it, regardless of their experience in waterproofing. 
Key Specifications: 
This fabric tape roll is six inches wide and 75 feet long. 
It is compatible and works well with various commonly-used liquid membranes such as RedGard, Hydro Barrier, AquaDefense, and Laticrete. 
Pros: 
It is highly pliable. This means that applying it in the sharp and tricky corners of your shower is easy to do. 
It is resistant to tearing. 
Customers across America have noted that this particular tape has lasted several decades, which means that it is a one-time investment! 
This membrane tape is very affordable. 
Cons: 
Thankfully, we couldn't seem to find any! 
– – –

Next up is the USG Durock Liquid Waterproofing Membrane. This membrane is compatible with concrete, stainless steel, and stone materials. Unlike some liquid waterproofing membranes, this brand allows you to apply various methods. For instance, if you would prefer to spray or brush the membrane onto the walls and floor of your shower, you can do exactly that instead of simply using a paint roller to apply it. 
Key Specifications: 
The viscosity of this liquid waterproofing membrane is not too thin or thick. This means that you can use it easily without worrying about it dripping or taking too long to dry. 
This membrane liquid is sold in one and 3.5-gallon buckets. 
You can also apply it in a steam room without needing to worry about the vapors affecting the effectiveness of this liquid waterproofing membrane. 
It sticks to stainless steel, ABV drains, and PVC surfaces. 
You can also use it to waterproof your countertops. 
Pros: 
This liquid waterproofing membrane dries very quickly. 
It is easy to apply and doesn't require much effort to use. 
Cons: 
It has a strong smell, so take care to use it in a well-ventilated bathroom. 
– – –

Our final choice for the best waterproofing membrane for a shower is the Rubberseal Liquid Rubber Waterproofing and Protective Coating. Even though this waterproofing membrane costs a little more than some of our other choices, we can assure you that you'll get your money's worth! This product was designed specifically to help waterproof different parts of a home, such as a bathroom. This waterproofing coating has industrial-strength ingredients, making it perfect for bathrooms, roofs, and other places. 
Key Specifications: 
This waterproofing membrane is made from liquid rubber. 
You can buy it in different shades. These include white, dark gray, light gray, matte black, and transparent. 
It resists many temperatures and UV rays if your shower is outdoors! 
It does not allow water to penetrate. 
Pros: 
This is one of the strongest liquid waterproofing materials available on the market. 
It is exceptionally durable and long-lasting.
This product maintains its elasticity over long periods. 
Cons: 
Just like the X Fasten Fiberglass Waterproofing Anti-Fracture Membrane Fabric Tape, we couldn't find any negatives for this waterproofing membrane! 
– – –
What Is The Best System For Waterproofing A Shower Floor?
Back in the day, contractors used materials like copper or rubber and installed a liner beneath a shower floor to protect the foundation of the bathroom from absorbing too much moisture. While this method was relatively effective, it also had several flaws. For instance, the shower floor accumulated lots of humidity that pooled on the liner as time progressed. As a result, mold would grow, eventually damaging the shower. 
At present, contractors and homeowners are much more aware of the different ways that waterproofing can help save a shower floor and prevent it from growing mold or mildew over time. 
It is essential to note that there isn't only one way to do it correctly when waterproofing a shower floor. The main ways of waterproofing a shower floor include liquid membranes, foam shower bases, foam wallboards, and sheet membranes. Please remember to keep your budget and the size of your bathroom in mind before picking a waterproofing system. As mentioned below, we would also like you to note that multiple systems work for waterproofing a shower floor. 
Also Read: What Causes Yellow Stains in Bathtub, Sink, Toilet & Shower
Liquid membranes 
Liquid membranes are one of the most accessible waterproofing membranes to use. To put it simply, applying a liquid waterproofing membrane involves painting the floor and walls of your shower with a waterproof liquid. You apply it with a paint roller. Once the layer is dry, it acts as an elastomeric layer, which remains flexible. It offers users a quick and straightforward solution to waterproof their showers. 
Foam shower bases 
Installing a foam shower base is a much longer process and requires more effort than installing a liquid membrane. You install it by placing it on your shower floor before adding the regular shower base. Many foam shower bases are sold with waterproof shower curbs. They help provide structural support. 
Also Read: How to Install Shower Pan on Concrete Floor?
Foam wallboards 
Foam wallboards are similar to foam shower bases. The only difference is installing them below the shower floor and wall tiles. Like the foam shower bases, they provide you with structural support and serve as a waterproofing membrane. 
Sheet membranes 
The last system for installing a waterproofing membrane on a shower floor uses a sheet membrane. These membranes are easy to install because all you need to do is peel them from their packaging and stick them on the shower floor. 
Benefits Of Using Waterproofing Membrane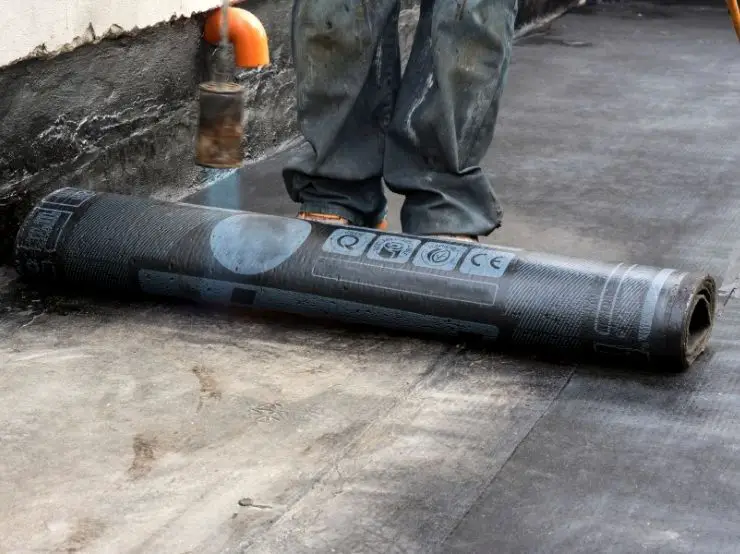 There are several benefits of using a waterproofing membrane. Some of them are: 
It helps protect your shower floor. 
Using a waterproofing membrane in your shower can help prevent roaches, ants, and other insects from surviving and destroying your bathroom. 
A waterproofing membrane makes sure that your shower dries quickly. 
It prevents water from accumulating underneath the tiles. 
It prevents mold and mildew from growing and, in turn, can help you protect your health. 
Buying Guide: What to look for in a waterproofing membrane for a shower?
When buying a waterproofing membrane for your shower, there are several factors that you need to keep in mind. It can be easy to go out and buy the first waterproofing membrane product you see, but please keep in mind that the product you purchase might not work well for your shower. Thankfully, we've put together a brief guide that will help you figure out what to look for in a waterproofing membrane. 
Where are you going to apply the membrane? 
The answer to this question depends on what your shower situation is. For example, if your house is a new construction or in the process of being renovated, you might want to waterproof your shower before laying the tiles and adding bathroom fixtures. This means that you are waterproofing the negative side or interior side of your shower. If you are updating your shower, you will be applying the waterproofing membrane on the positive side of the shower or the side that you can see. 
The negative side will require waterproofing membranes made of materials like epoxy, while the positive side needs to be waterproofed with materials like rubber. 
Cost of the project 
Once you've figured out where to apply the waterproofing membrane in your shower, you need to factor in your budget. The list of products mentioned above contains high and low-end waterproofing membranes that come in fabric tape and liquid membranes. 
FAQ's
What is the best way to waterproof a shower?
The best way to waterproof a shower is to apply two layers of a liquid membrane and let it dry completely before using your shower.
How do you apply a waterproof membrane to a shower?
If you are using a liquid membrane, use a paint roller to apply two coats to the walls and floor of your shower. If you are using foam wallboards and a foam shower base, apply a layer of a liquid waterproofing membrane, then use it to stick the foam wallboards and shower base. 
How long does the waterproofing membrane take to dry?
It takes anywhere from one to three days to dry. 
Do you need a waterproof membrane on a cement board?
Yes, you do. 
Wrapping Up
Waterproofing your shower is one of the best ways to invest in your bathroom and home. By taking a few hours out of your day to protect your shower from water damage, you are ensuring that the tiles and fixtures in your shower last forever. This guide took you through tons of information on the best products that you can use to waterproof your shower, along with a brief explanation of what to consider before buying a waterproofing product. It is exciting to take on a project like installing a waterproofing membrane in your shower, but we urge you to proceed with caution before getting started!