Leather furniture is expensive and has an aesthetic appeal. Unfortunately, its appeal also attracts the attention of your pets and especially cats. Cats love to scratch furniture and so if you own one, you need to figure out how to stop cat scratching leather furniture and damaging your seats.
If you are considering owning a cat for the first time, please note that cats will always scratch. They scratch to relieve stress, to mark territory, stretch, or condition their claws. It is just natural behavior for them.
So, in this article, we are going to look at ways to protect your leather couch from scratches without causing any harm to your cat.
How to stop cat scratching leather furniture
The best way to stop cat scratching leather furniture would be with some practice products. 
Our top picks to reduce the scratching would be:
Stopping your cat from scratching does not mean punishment, but redirecting. You cannot punish your cat for having a natural urge to scratch something.
Thus, punishment will be an unfair way to deal with the situation.
Since scratching is normal, you will need to protect your furniture and there are a number of ways you can do this as discussed below.
1. Sisal sofa scratchers for cats
Sisal sofa scratchers are perfect for preventing your cat from scratching your couch.
This is because sisal provides the cat with a rough scratching surface that feels similar to a tree bark which most cats love to scratch.
In addition, sisal is very durable so sofa scratchers can last for years and years before needing to replace.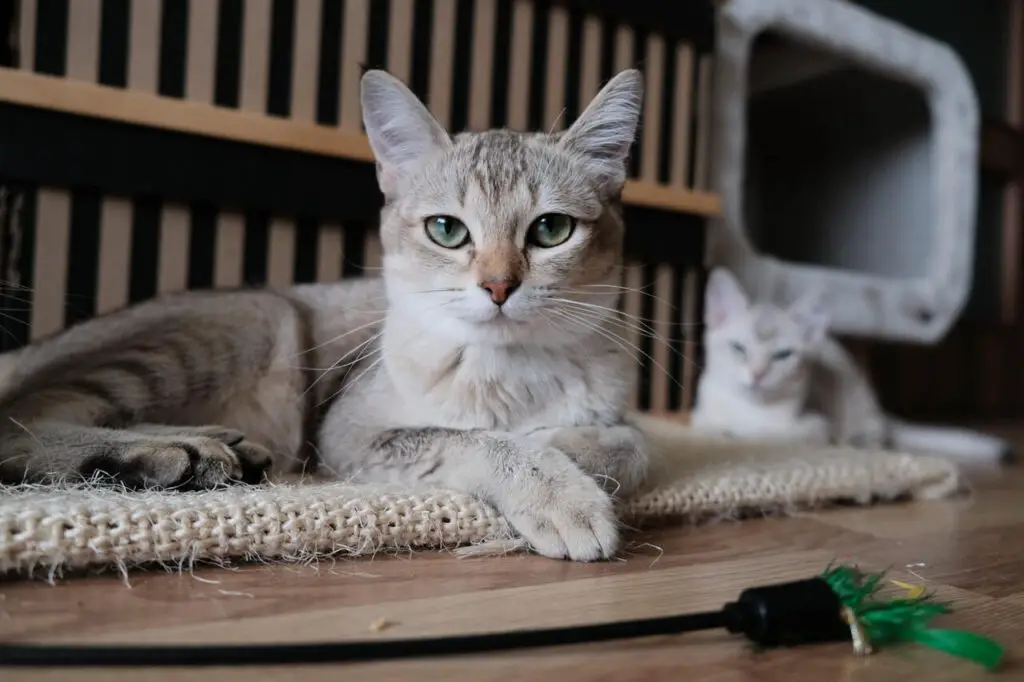 Before buying a sofa scratcher, you should first identify your cat's favorite scratching spot. Most cats love to scratch at the corner of the couch so this sofa scratcher couch corner protector will be more appropriate. It fits most sofas with a wide rounded corner.
For cats that love to scratch other parts on the couch, this Navaris 2x Cat scratch mat sofa shield will be ideal. The side where the cat is meant to scratch is covered with sisal while the other part is linen. This shield can be placed over the arm of the couch or over the back to protect it from the cat's claws.
Sofa scratches are good because you do not have to train your cat against scratching. You just need to place the scratcher over the arm, back, or corner of the couch for the cat to scratch.
Moreover, sofa scratchers fit snugly on the couch, maintaining the aesthetic of your living room.
2. Cat scratch guard for leather couch protection 
There is no doubt that cats enjoy scratching. Hence, to protect your leather couch from damage, you should make the scratching experience less desirable.
One way to achieve this is by placing claw guards or shields on the areas where the cat loves to scratch. Most cats love to scratch around the sturdiest parts of the furniture, which is usually at the corners and arms.
Thus, claw guards are designed to cover these areas and discourage the cat from damaging the leather couch.
The claw guards are made from clear vinyl material and are resistant to sharp cat claws, so they are very durable.
Not all claw shields are designed to be used on leather but these Binary Barn Cat Scratch Deterrent shields are recommended. This is because they have an adhesive that holds them in place rather than pins to protect your leather furniture.

In addition, they fit perfectly on the sofa contours and are waterproof and long-lasting.
Moreover, they are not very visible on your couch unless someone moves really close and they do not leave unpleasant marks on the couch after removing.
---
See also: Best color repair kit for leather couch
---
3. Cat anti scratch tape for furniture
A sticky scratch tape is simply a large double-sided tape that you can stick to the areas that are prone to cat scratches.
The idea of using sticky tapes is not to cause fear or discomfort but to make the scratching less desirable since cats hate sticky surfaces.
Your cat may attempt to scratch the areas covered with the anti-scratch tape but once they notice that they are getting stuck, they will stop.
Sticky tapes adhere to different surfaces, come in different sizes, are easy to remove, and sticks to the surface throughout the advised period.
For instance, this Double Sided Deterrent Training Tape for Cat protects all kinds of furniture including leather sofas from getting damaged by cats. When the cat's claws touch the sticky side of the tape, they feel very uncomfortable and over time, they start avoiding the sticky surfaces.
However, it is important to note that sticky tapes are not as long-lasting as claw guards. They attract hair, small debris, and dust over time.
4. Couch covers for cat scratching
Another way to prevent cats from damaging your leather furniture is to use couch covers.
In a previous article, we reviewed several couch covers that work best on leather sofas. Some covers tend to slide, so you must choose carefully to get the best fit.
You can use couch covers fully or partially on your furniture. This means that your cat will get to scratch them instead of the leather materials. It is advisable to use soft materials because cats hate scratching on soft surfaces.
In addition to protecting your couch from scratches, the covers will also help to protect it from spills like cat pee and vomit.
---
See also: Best non-slip couch covers for leather
---
5. Cat scratching posts
As you train the cat not to scratch your couch, you should give it favorable options.
You can, for instance, place a scratching post and direct the cat to scratch it instead of the couch.
Scratching posts are made from different materials that can withstand the cat claws.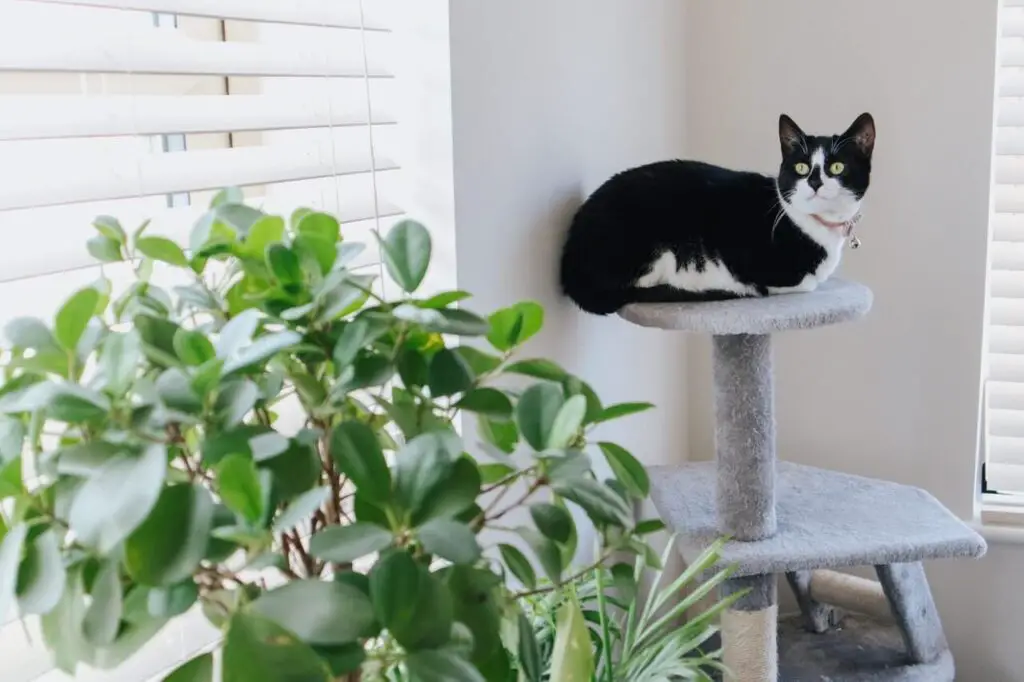 Also, they act as climbing posts where the cats can climb, relax, and lounge.
Others come with attached toys to keep the cats entertained and boost their scratching experience.
This SmartCat Pioneer Pet ultimate scratching post is quite popular. It is covered with durable and fibrous woven sisal for a natural feel.
It is about 32 inches tall and yet very stable on the floor and on the carpet. Your cat would definitely enjoy stretching and toning its muscles when scratching this post more than the couch since sisal naturally inspires scratching.
6. Spray to stop cats from scratching furniture (Cat deterrent spray)
Cat deterrent spray effectively prevents cats from scratching on not only furniture but also drapes, plants, doorways, and other fabrics around the house.
While some people have dismissed the idea of using sprays, it has been proven that most deterrent sprays are non-toxic and safe to use at home around pets and humans.
However, you need to make sure that you use a quality brand and apply it as frequently as instructed. Most sprays should be applied every day for the first two weeks and lessen the frequency until the scratching habit stops.
Emmy's Best cat scratch deterrent comes highly recommend due to its effectiveness on both kittens and cats. It is also safe to use since it is non-toxic and can be used on furniture and other surfaces at home.
If you realize that a certain brand is not effective on your cat, you can try another brand, or use another solution.
For instance, vinegar mixed with liquid hand soap and water can help to deter scratching. You can also use essential oils like rosemary or lemongrass.
When using the sprays be careful not to use so much that the cat does not feel comfortable in their home. The idea is not to punish but to redirect.
---
See also: Best couch covers for lazy boy recliners
---
7. Wrapping blankets
The main idea behind using a wrapping blanket is to keep the cat from reaching your couch.
There are high-quality wrap blankets that can be wrapped tight around the sofa cushions such that the cat cannot unpick.
It is important to choose a color that matches your living room to maintain the aesthetic.
If you do not want to wrap or tuck it in, a large throw blanket over your seats can serve the same purpose.
Cats do not love to sharpen their claws on surfaces that are not firm so the softness of the blankets will keep away the cat.
Conclusion
To protect your leather couch from the damage of a scratching cat, you need to know, how to stop cat scratching leather furniture. From the above article, there are a number of options to choose from.
You can also read this article about why your leather couch is peeling and cracking apart from cats.
You can decide to buy the sofa scratchers which are more expensive but help maintain the beauty of your home.
On the other hand, you can go with the more affordable double-sided sticky tapes and claw guards.
Nonetheless, the main goal is to stop your cat from scratching your leather sofa. Thus, ensure that you use a method that does not instill fear or discomfort in your cat.