We all know that cleaning a tub can be a chore, but with acrylic tubs being so popular now it is even more of a challenge. In this article, we'll go over what cleaners can be used on acrylic tubs. This is because Acrylic does not react well to some cleaners and chemicals such as ammonia.
But never fear! There are plenty of great options for you to use when cleaning your acrylic bathtub.
A lot of people think that if they have an acrylic tub then they need to buy expensive cleaners just for them. This isn't true at all! In fact, there are many cleaners that will work perfectly fine on acrylic tubs without any issues.
Acrylic Tub Cleaners – Comparison Table
What are acrylic tubs?
Acrylic tubs are a modern replacement for traditional fiberglass and cast-iron baths. They are made of acrylic, which is an extremely durable material that can be molded into any shape.
Acrylic bathtubs typically come in one piece, but they can also have two sides or even three if you want to get fancy.
The benefits of these tubs include their ability to resist wear and tear especially scratches and stains from everyday use.
Also, they're nonporous so water doesn't stain them over time. This makes them much easier to clean than other types of bathtubs.
---
See also: Best clawfoot tub shower curtain ideas
---
Why you should use a cleaner specifically for acrylic tubs
If you have an acrylic tub, there are a few things to be aware of when it comes to cleaning.
For one thing, if you use the wrong cleaner on your bathtub surface, it can scratch or dull the finish.
This is why it is advisable to use only cleaners specifically designed for acrylic surfaces. These cleaners will not harm the material and in fact, they tend to restore the shine in no time.
Abrasive cleaning products may work great on stubborn stains but they will damage the acrylic finish.
What cleaners can be used on acrylic tubs?
1. Wet & Forget shower cleaner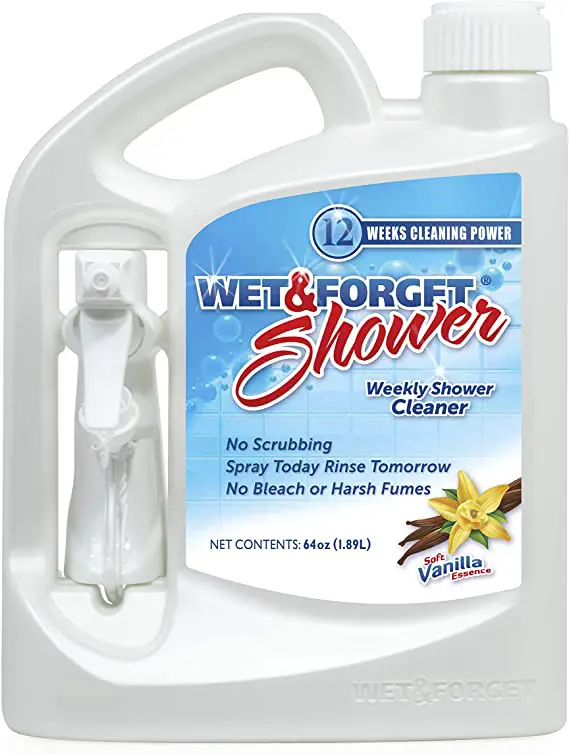 Wet & Forget shower cleaner is a top-selling shower and tub cleaner that removes stains, grime, and scum.
It is very easy to use as no tool is required for application. In addition, you don't need to scrub or wipe the tub to remove stains.
Simply spray the tub with this formula and it will deep clean and prevent further build-up of soap scum or grime.
Most importantly, it has no strong odor or fumes, and it's safe for septic tanks.
2. Kohler K-EC23732-NA Tub and Shower Cleaner


Kohler tub and shower cleaner is the perfect solution to any bathroom cleaning needs. It removes soap scum, lime, and other heavy soil from acrylic, tile, enameled cast iron, and other surfaces.
It is also safe to use on fiberglass tubs as well as metal fixtures such as faucets or spouts.
Just one application restores the tub to its original shine without scrubbing at all.
Thus, with this cleaner, you can rest assured knowing that you are using a quality product that will not only clean but protect your acrylic surfaces.
3. Kaboom Shower, Tub & Tile Cleaner with Oxiclean

Kaboom Shower, Tub & Tile cleaner breaks through soap scum and hard water stains on the tub without any obnoxious fumes.
It's very easy to use and does not require any scrubbing. Simply spray and walk away. It has the power of OxiClean that makes it tough on stains but gentle on surfaces like acrylic, glass, and porcelain.
---
See also: How to restore the shine of your acrylic bathtub
---
Other things that can be used to clean an acrylic bathtub
For those of us who like things cheaper than cheap, there are still plenty of options available at any grocery store with no fancy name brands needed. For instance, lemon juice, baking soda, and dish soap are some of the affordable bets, which don't cost a lot and you can find them at any grocery store near you.
1. Lemon juice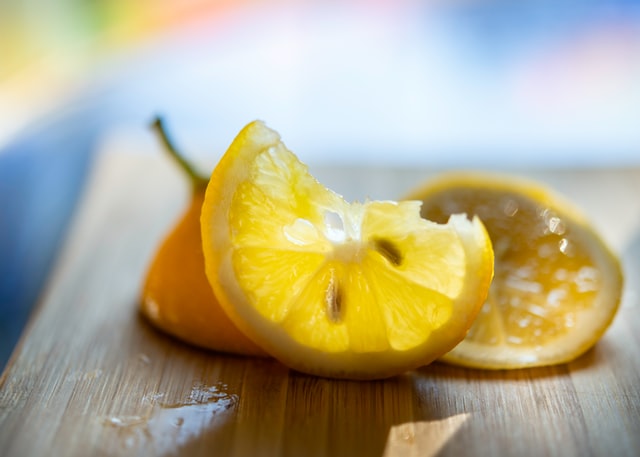 This is an excellent choice for cleaning acrylic tubs. The acidity of lemon juice acts as a detergent and removes all dirt from your bathtub by breaking down oil, minerals, other chemicals, adhesives, and more.
Moreover, it can also be used to clean tile floors in the bathroom without using harsh cleaners that could damage grout lines like vinegar or bleach would do.
2. Baking soda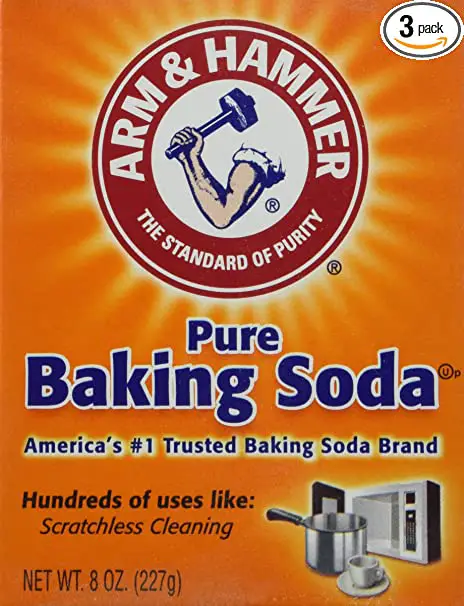 Baking soda is another ingredient that works wonderfully at removing surface dirt and water spots from your bathtub without damaging the delicate acrylic material.
You can mix baking soda with vinegar. The chemical reaction between the two helps to break down grime while leaving behind no residue like some other cleaners typically do.
3. Dish soap
Dish soap is also great for cleaning without harming your acrylic tubs.
Actually, it comes highly recommended by homeowners who swear it's better than any other cleaner on the market when it comes to getting tough stains off their tubs.
The gentle chemicals found in this cleaner will take off tough stains and leave you with a shiny clean tub.
Some people even recommend mixing up a little bit of dish soap with baking soda before applying it to the tub so you get double duty out of one product.
However, it is important to avoid using too much because dish soap can be harsh on the acrylic surface and you don't want to do damage.
4. OxiClean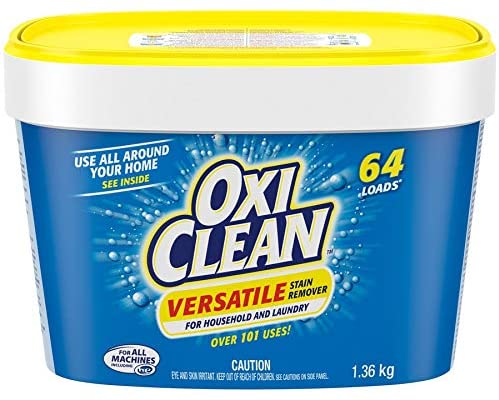 OxiClean is a laundry detergent that has been designed specifically for getting tough stains off clothes but it also works well as an all-around cleaner.
It's worth noting some people report having success with this product when mixed in hot water before applying, so if you have stubborn stains on your tub or just need something extra OxiClean could be your best bet.
Cleaners to avoid on acrylic bathtubs
Abrasive cleaners
Using abrasive cleaners such as steel wool or magic eraser can scratch or damage acrylic tubs due to the delicate finish.
Such cleaners can create small holes that will be difficult to repair. Instead, opt for a soft cloth or sponge with cleaner on it instead.
Ammonia and bleach
The best cleaners for acrylic tubs are ones that do not contain ammonia or bleach. Ammonia and bleach can break down the material over time, leading to cracks and chips in your bathtub.
---
See also: Best faucet for a freestanding bathtub
---
Conclusion 
This article has explained what cleaners can be used on acrylic tubs. We've compiled a list of the best products for cleaning your tub and shower that are safe for use with this type of surface material.
There are many different types of cleaners that work great for cleaning an acrylic bathtub.
Some people use dish soap, and others prefer a heavy-duty cleaner. The best product will depend on the type of stains in the tub because some products might not remove certain stains from your shiny new bathtub.
In this article, we have also provided useful information about which chemicals should be avoided when cleaning an acrylic tub.  This is because certain solvents like ammonia and bleach can damage or discolor your acrylic bathtub or shower.