Is it necessary to have the best dog poop trash can for your canine's waste to use at home?
The truth is, dog waste contains a lot of bacteria that put human health at risk. Gastrointestinal infections, diarrhea, eye, and ear infections, and vomiting, for instance, are some of the illnesses that are caused by these bacteria.
This is why it is important to properly dispose of dog poop.
If you are walking your dog and she decides to do her business on the street, all you need is a plastic bag. Pick up the poop, tie the bag tightly and dispose of it in a trash can somewhere on the street, or wait until you get home.
But where do you put the plastic bag with your canine's waste at home? Read this review for some of the best dog waste disposal systems and trash cans recommendations.
But first, here are our top 3 recommendations
At A Glance – Best Dog Poop Trash Can for Pet Waste
Best dog poop trash can for pet waste comparison table
Best containers for Dog Poop Outdoors Reviews
1. Pet Genie for Dog Poop & Pet Waste Disposal Pail

It's time to bring to an end that stinking poopy smell from your dog's waste with this pet genie trash can.
This can comes with a pack of 6 refills so you can use it for a long time without the need to purchase more refills.
In addition, it is large enough to accommodate waste for several days without emptying. However, for maximum odor control, it is important to empty the genie at least 3 times a week before it is completely full.
Which is the best place to put this genie? Well, you can place it on the patio, in the garage, porch, or in a concealed place in the house.
Pros
Made of plastic; hence, does not rust
Offers maximum odor control
Has a large capacity
Portable
Easy to use
Cons
You have to manually push the plastic bag with poop into the can since it does not have a foot pedal.
2. PawPail Pet Waste Station

If you are looking for an environmentally friendly dog poop disposal system, then get the PawPail pet waste station.
It comes with paw bags that have added additives to ensure they break down easily compared to other plastic bags. One role of paw bags contains 200 bags, which can last up to 3 months.
For odor control, this pail has an activated carbon air filter that absorbs the bad smell from the poop bags. This filter can last as long as 3 months so it does not need to be replaced every time.
You will love the fact that the Pawpail station is designed to be used anywhere in or outside the house. You can mount it somewhere to avoid interference or theft. However, you will need to buy a mounting system and mount it on the fence, tree, against the wall in the garage among other places.
In addition, it has a DualVent technology to promote fresh-air circulation even when the pail is closed.  So you can be sure that no unpleasant odors will be felt around your home.
The vent holes on the side of the pail also help in ventilation. They allow air to flow through the pail and through the perforated basket, which holds the poop bags.
 Pros
Can be mounted for safety and to prevent tampering
Has an activated carbon filter
Great ventilation to allow airflow and prevent bad odors
No pail liners needed
Dispenses poop bags
Cons
It is a bit pricey
Poop bags need to be refilled
3. Premium Dog Waste Trash can with Flytrap

This is a small outdoor trash can for dog poop that is designed for dog owners who prefer to have the can outside the house.
It has a stainless steel body and a plastic lid so it can withstand hot weather or rain. Most importantly, it has a cartridge under the lid which is lined with flypaper to trap flies.
The smell of dog poops attracts flies and they get into the flypaper-lined cartridge, which prevents their escape. This feature helps to reduce the flies around your home so that you live in a healthy environment.
To change the cartridge and empty the trapped flies, simply press the quick-release button on the lid and the cartridge will fall into the bin. You do not need to touch the trash can or the dead flies.
The good thing is that you do not have to empty it every day. It can hold a week's worth of poop from a small or medium dog like the German shepherd.
 Pros
Comes with a 4-Pack cartridge
Rustproof
Comes with a rain cap
Has a foot pedal
Great trash can outdoor.
Cons
The can is not large enough for 4 dogs or more.
Requires garbage bags
---
See also: Reasons it is illegal not to pick up dog poop
---
4. Lucky Champ Cat Litter disposal system

Although this trash can is designed for cat litter, it works perfectly for storing dog poop bags between trash days.
If your garbage container is collected every other week, then you need something that can hold the poop and keep the smell locked in such as this litter disposal system.
It has a lockable trap door and a lid loaded with springs so it seals completely and keeps the smell well contained inside. In addition, the lid opens using a foot pedal, which makes it is totally hands-free when making a deposit.
This high-quality disposal system can hold several dog poop bags eliminating the need for you to keep going outside to the garbage container every time.
Moreover, it has a safety lock mechanism to keep curious children and pets away.
It also comes with a free bag liner that you can replace with a kitchen bag once it is used up so you do not have to buy any refills. In addition, it comes with a litter scoop to ease picking up poop in the yard or in the house when bagging it.
Most importantly, the manufacturers assure you of the great quality of the lucky champ, which is why it comes with a 5-year warranty.
Pros
Lightweight
Contains odor very well
It has a larger capacity than a genie; hence, perfect for larger dogs.
Has a foot pedal which makes it easy to open
Can be used with a kitchen trash bag
Cons
The top waste deposit flap needs to be pressed a little hard to open
---
5. Doggie Dooley Large pyramid dog toilet system

If you are an environmentally cautious person, then this is the best outdoor trash can for dog poop that you can use in your backyard.
It is an in-ground pet-waste disposal system so it is more like a small septic tank meant to help in breaking down dog waste.
This small septic tank is made from heavy-density plastic to withstand extreme weather temperatures make it long-lasting. Moreover, it is perfect for all soil conditions except heavy clay since it needs natural drainage for it to work perfectly.
Despite its small size, it is large enough to hold poop for 2 large dogs or 4 small ones.
In addition, it is very easy to use and hygienic for home use because it has a foot-operated lid opener.
How does the Doggie Dooley work?
First, dig a hole in your yard that is about 4 feet deep and put it in the miniature septic tank. Make sure the can is well installed and only the lid can be seen on the surface. Step on the lid opener to open it then drop your dog waste. Add a waste terminator digester and water and cover it (You can add these occasionally not on a daily basis). The water and the digester help to break down the dog waste from solid to liquid, which percolates into the soil and is purified by the microbes in the soil.
Just like a normal septic tank, this too should be installed away from children and pets.
Pros
Safe for the environment
The digester is non-toxic
It does not smell at all
Can be opened using one foot
Can withstand all weather conditions
Cons
Needs to be assembled before digging it into the ground
Not appropriate for heavy clay soil
A bit pricey
---
6. ZW USA Inc. Round Waste Can

This 100% rust-free waste can is highly recommended outdoors.
It has a lid that protects the inside from rain and mounting hardware so you can hang it anywhere around your home.
However, you need dog waste can liners to keep odor locked in, which you buy separately. The liners are held in place by the built-in bag retention clamps that prevent them from slipping in.
Pros
Rust-free
Made from commercial grade aluminum
Bag liners do not slip in
Has a lid to protect it from rain
Can be mounted on a post or pole in the backyard or stand-alone
Cons
7. Dog Waster Station with Waste bags and Can liners

This is a dog waste station for the home backyard that can also be for commercial dog waste disposal such as in the park.
The station is designed by American Dog Waste Products Store, which is a well-known leader in pet waste solutions. Thus, you are assured of the highest quality.
It is made from professional-grade and high-strength aluminum so it can last through extreme weather conditions both in summer and winter.
Most importantly, the station comes with a locking bag dispenser with free 400 bags and 50 can liners.
Pros
High quality and long-lasting
Does not rust
No fading
The waste bags and can liners are of high quality
Very easy to assemble
Large capacity; hence, best for large dogs
Cons
Price is a bit on the higher side
---
See also: How to pick up dog poop without scooping it
---
Things to Consider When Choosing the Best Trash Can for Dog Poop
Material
Most people prefer to keep the trash can for dog poop outside the house. For this reason, you need to make sure that it is made from a material that can withstand all weather conditions.
The materials should also be rust-proof so that it is durable and long-lasting such as stainless steel or heavy density material.
Size
The size of the can will depend on the number of your dogs and their sizes. A huge dog like a German shepherd may require a larger capacity waste disposal system compared to a smaller dog since it produces more poop in a day.
Ability to control odor
Odor control and a healthy environment should be your number one goal. Thus, when choosing a trash can, ensure that it has a lid that shuts tightly. This will not only keep the smell contained but also prevent flies and keep your home clean and healthy.
Foot pedal
There is no doubt that you will clean your hands after emptying the dog waste. But you will find it convenient and more hygienic to get a trash can that has a foot pedal since it is hands-free. So you don't have to touch the can every time you are disposing of waste.
Why You Need a Dog Poop Trash Can for Outdoor
Healthy environment
Dog poop contains a lot of bacteria that can be harmful to people's health.
So you don't want to have the waste scattered around your backyard as this creates an unhealthy environment.
If your dog poops in the backyard, it is important to pick up the poop and put it in a trash can so as to keep the home free of germs.
Prevent pungent smells
Dog poop and feces have a pungent smell that you can't stand.
That is why you need a trash can to keep dog poop odors under control.
Just make sure you pick one that closes tightly so that the odors can be contained inside.
Sometimes, you may find that the trash can stinks when you open it. To prevent this, use a carbon filter or baking soda to deodorize the pail. You can also use an odor eliminator or scented bags.
FAQ About The Best Outdoor Dog Poop Trash Can
Can you put dog poop in the garbage?
This seems to be quite a common question among dog owners. The good news is that you can throw your dog's poop in the garbage. However, the best way to do it is by putting it in a plastic bag before placing it into the garbage.

If you are using a biodegradable bag, you can flush it down the toilet.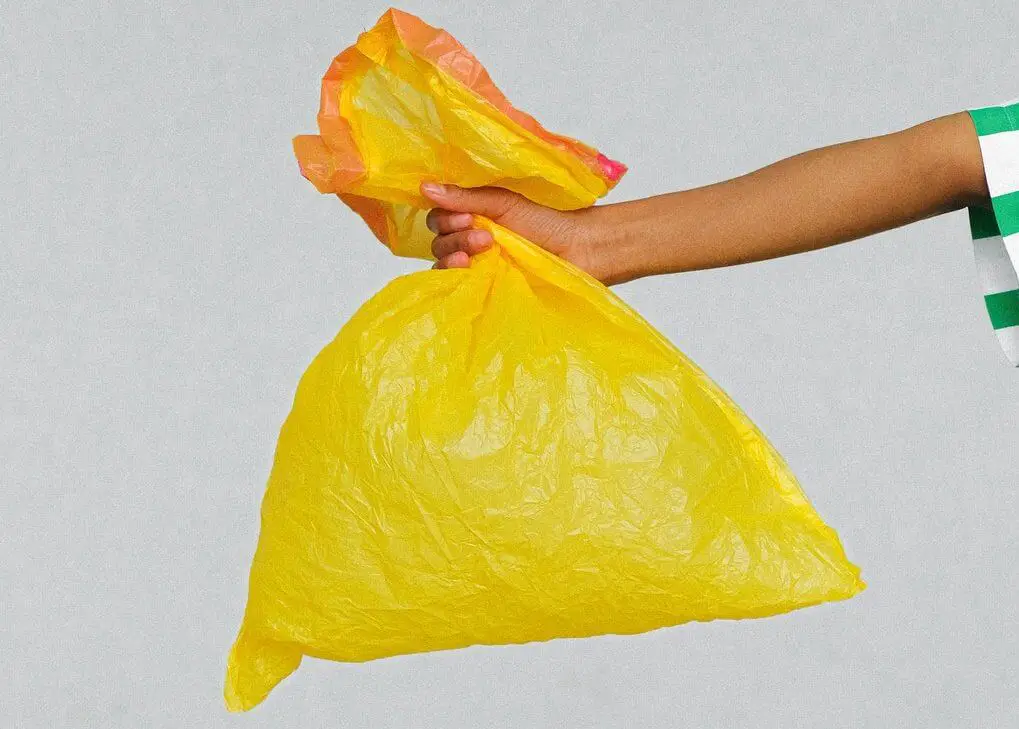 How to stop dog poop smelling in my bin
There is nothing more disgusting than the smell of dog poop in a trash can, especially in the hot summer.

If you are having this problem, then you may consider getting a diaper genie or pail for dog poop.

However, if you choose to continue using the regular trash can with a lid, there are a few ways that you can stop dog poop from smelling in your bin. One is by using a carbon filter, which contains activated carbon that absorbs the bad smell of the waste.

You can also use baking soda or vinegar to absorb the smell. Simply, sprinkle the baking soda at the bottom of the bin or spray vinegar mixed with water into the bin. Another way is to use activated charcoal bags available at the store to absorb the odor molecules and prevent the bad smell.

Scented dog poop bags also help to some extent to mask the awful smell compared to the regular unscented bags.
How do I dog-proof my trash can?
It is no fun coming home to find the trash can's contents scattered all over the place. It is even worse when the contents are your pet's waste.

You can prevent this by getting a dog-proof trash can such as a can that opens using a step or foot pedal. It will not be easy for your dog to open such a can unless they have been trained to step on the pedal.

A trash can that has a child safety lock, which must be pressed to open the lid, can also come in handy.

See also: Why your dog poops so much at night
Can you use a diaper genie for dog poop?
Yes, you can use a diaper genie for dog poop.

Actually, the pet genie that we reviewed earlier in this article resembles a diaper genie. So if you have a diaper genie that is no longer in use at home, you can use it for dog poop.

Just wrap the poop first in a poop bag and throw it into the genie so as to contain the odor effectively.
---
See also: Can you use a diaper genie for dog poop?
---
Conclusion
Dog waste or pet waste, in general, is considered a nonpoint source pollutant by the US Environmental Protection Agency. This is due to the huge number of harmful bacteria it carries, which poses a risk to human health.
Therefore, if you have a dog, you definitely need to get the best dog poop trash can.
Picking the waste and putting it in a regular garbage can may work but you should be ready for a stinking smell especially during the hot summer weather.
The good thing about the dog poop trash cans we have reviewed in this article is that they help to contain odor and can hold a week's worth of waste as you wait for the garbage pick-up days.
Using these trash cans will help to manage pet waste and minimize exposure for your family and neighbors to harmful bacteria.