Couch cushions do not always stay in place especially if they are not properly secured. So in this article, we shall discuss six ways on how to keep couch cushions from sliding off the couch.
We found it necessary to write about this problem of sliding couch cushions because it is actually quite common.
Nothing irritates more than cushions that keep on sliding especially when one is trying to relax. Sliding cushions are not only uncomfortable but also make your couch look sloppy, old, and disorganized. Also, they pose a risk especially to children and the elderly.
So without further ado, let's talk about techniques that you implement to put to secure your sofa cushions.
How to keep couch cushions from sliding off the couch
It is easy to keep your couch cushions in place and prevent them from sliding in the following ways.
1. Lay non-slip rubber mats/rug pad under the cushions
You can prevent cushions from sliding by placing a non- slip rug pad under the cushions such as the Gorilla Grip Rug pad.
A rug pad provides a better grip for the carpet on the floor so you can also use it to keep the cushions in place.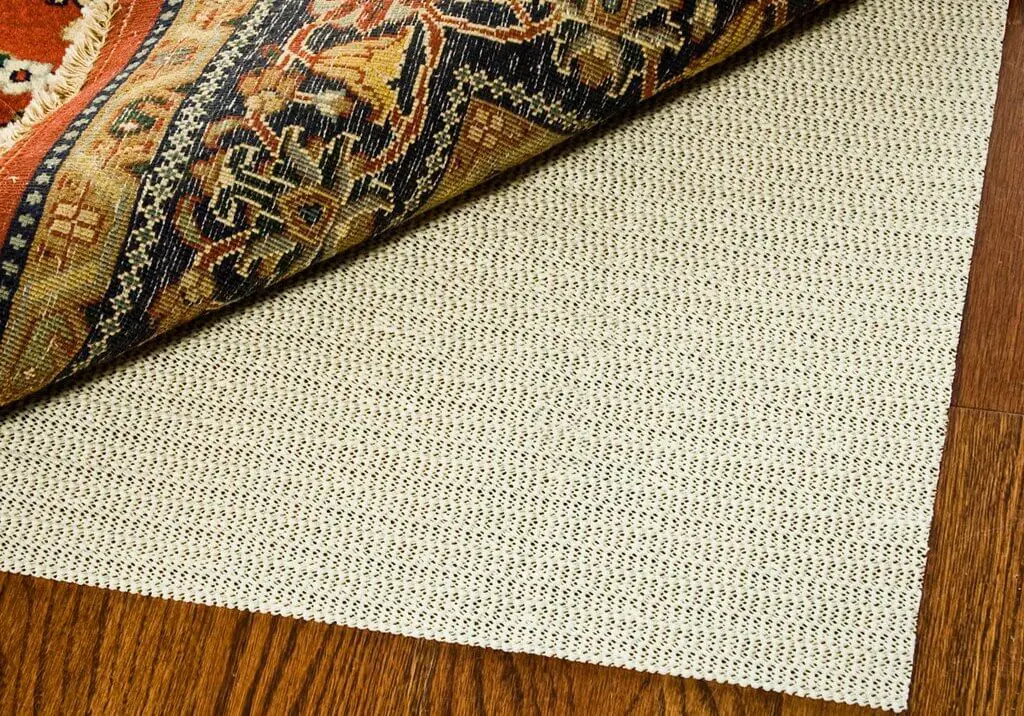 You if have a rug pad that is not in use, cut the pad according to the size of your cushions. Lay it on the couch and put the cushions back.
With the pad at the bottom, you can rest assured that the cushions will not slide at all.
The rug pad not only prevents the movement of cushions but also prevents covers, coasters, rugs, and other fabric items from moving.
2. Attach heavy-duty Velcro strips under the cushions
Most couches are made of high-quality materials, but their design leads to the bottom cushions moving outwards far than they should.
Attaching heavy-duty Velcro strips under the cushion is one of the ways you can use to ensure your cushions are in place.
A maximum of two strips of Velcro is what you need.
The procedure of attaching the Velcro strips is straightforward. Cut around 15cm Velcro strip for every cushion and attach it to the back using a thread.
For smaller cushions, use one strip, and for full cushions, use two strips per cushion.
Note that the Velcro strips should be attached to the back of each cushion and not to the underside. If you stick them to the bottom of the cushions, you won't be able to reverse the cushions without the Velcro strips showing.
---
See also: Best supports for sinking sofa cushions
---
3. Sew rings to the back of the cushions and couch
This is a simple technique to keep any type of cushion in place, but it requires a bit of DIY skills.
What you do is sew a small piece of fabric onto the sofa and another onto the cushion.
Attach a small metal ring to one of the parts and a hook to the other.
Using this sewing technique, you can hook each cushion into your couch and make it stick in place.
In case you don't need the rings and hooks anymore, you can easily remove them from your sofa.
Make sure you buy a plastic, blunt hook. You don't require a sharp one because it will be sewn to your couch.
This method may look complicated, but it's one of the best options for preventing throw cushions and side pillows from moving out of place.
4. Place cushion gripper/couch underlay pad
Couch underlay pad plays a perfect role in helping to stop cushions from sliding off the couch.
These non-slip underlay pads are quite popular. They measure 60* 60 cm, but you can cut any size to suit your needs.
However, the pad should be smaller than the cushion so that it stays in place without being visible.
Fixing is easy because you simply lay it on the couch and placing the cushion back.
Note that, if the cushion is wet, the pad will not grip tightly. So always ensure the cushions are dry.
---
See also: Best leather couches slipcovers
---
5. Put nonslip Rubber shelf liner
Picking up your couch cushions from the floor every time can be put to an end by using a nonslip rubber shelf liner technique.
A roll of nonslip rubber is not expensive. When shopping makes sure, you choose the perforated one to provide more surface area for maximum adhesion.
The patterns and colors should not worry because couch cushions hide the shelf liner.
To fix it, remove the cushions and vacuum the sofa. Unroll the shelf line across the base of the seat.
Cut the liner to the equal size of the seat. If you want to join pieces of shelf liner, you can use a sewing machine to join them.
Put the liner on the seat base, tucking in the ends at the sides of the seat. Put the liner down with your hands to make sure it sticks then place the cushions back.
---
See also: Best cushions for rocking chairs
---
6. Use hook loop tape
The hook loop tape will make your life easier by locking your cushions in place.
The hook loop tape is re-useable and removable.
It is made of nylon and polyester material that is durable and easier to use.
It's perfect for use on the couch, chair, loveseat, bench, sofa, or other seating cushions.
---
See also: Things to put under couch covers to stay in place
---
Conclusion 
Cushions will slip and move when you sit on them, especially if they are not secured.
So if you are you wondering how to keep couch cushions from sliding off the couch, you can try any of the above techniques.
Most of them are simple DIY though you may need to purchase the materials.
Some techniques may work better than others depending on the size and material of your couch and couch covers. So, let us know which one works for you by leaving a comment below.