Did you know that there are things to put under couch cushions to prevent sagging or make them firmer?
Nothing feels more uncomfortable than a sunken couch or sofa. When you come home from a busy day at work, you want to be able to relax on the couch alone or with your family. However, this is nearly impossible to do if the couch cushions are sagging.
Luckily, unless you want to throw out your perfectly good couch because it is sunken, you can try some simple DIY ideas to provide support for the cushions and make the couch comfortable again.
In this article, we shall talk about some of the reasons why your couch cushions are sagging, and hopefully, you will be able to identify some of these causes on your side.
We shall also talk about what to put under couch cushions for support and how you can solve this problem and possibly prevent it from happening in the near future.
5 Things to Put Under Couch Cushions for Support and Prevent Sagging & Sinking
The best fixes to put under couch cushions to prevent sagging and sinking are:
1. New Inserts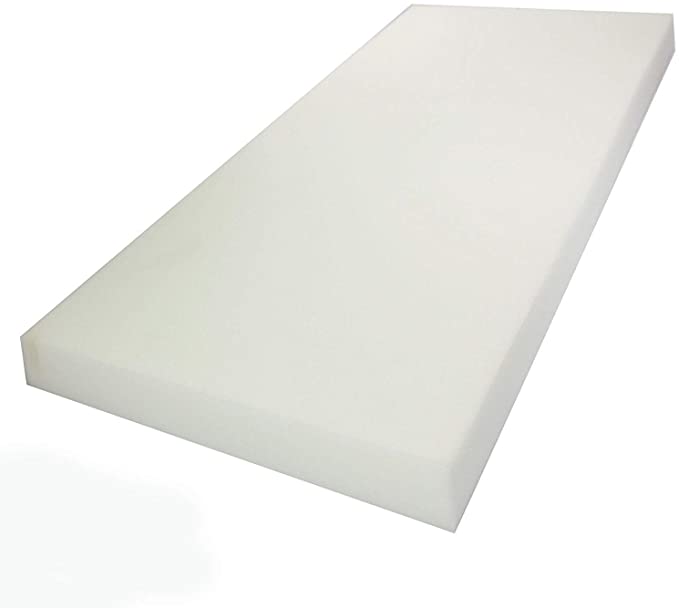 If your cushions are sagging, you will need to add new foam inserts to make them firmer since the old ones may have lost their ability to offer much support.
This is also a simple DIY but first, you will need to purchase the foam from the store. The most commonly used are these Industrial Strength Foam Cushion Inserts.
Once you have the foam, simply unzip the cushion covers and then remove the old foam, and insert the new one.
Compress and squeeze them into the covers until you get sharp corners and smooth edges so that the inserts can stay in place all the time.
Zip the covers and put the cushions back on the couch.
---
2. Sagging Couch Cushions Support

If you are not a DIY person, then you should get the LAMINET Supports that are readily available in many furniture shops.


These sofa-cushion supports offer a strong base for the cushions and prevent sagging.
They are also strong enough to hold additional weight and also help to improve your posture as you sit.
The supports are foldable so that they can be stored when no longer needed.
3. Plywood Under Couch Cushions or Cardboard


Plywood or cardboard offers a strong furniture base; thereby, preventing the cushions from sagging.
It's a simple DIY method so you don't need to be professional to do it.
Get the plywood that is about 1/4 inches thick like this Premium Baltic Birch Plywood.
Cut it into a rectangular shape based on the measurements of your couch.
Make sure the plywood perfectly fits the length and the width of the coach sitting area.
Place the plywood on the couch frame without the cushions. If it sticks too far past the front of the couch, cut it until it fits perfectly.
Since the plywood will be rough on the cut edges, you will need to cover the edges so that they don't hurt you or snag the cushions.
You can use duct tape or get slipcovers to cover the plywood while protecting the seat from damage.
Place the cushions back on the couch and relax since there will be no more sagging.
---
See also: Best supports for sagging couch & sofa 
---
4. Polyester Fiberfill or Batting
Polyester fiberfill or batting is commonly used in upholstery furnishings like pillows and quilts.
It maintains its shape and thickness for a longer period compared to foam inserts.
Therefore, it is ideal for ensuring the cushions remain rigid without sinking or sagging on the couch.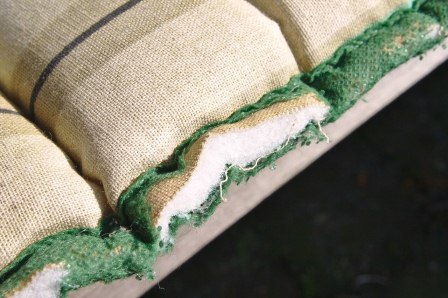 To install, simply unzip the cushion covers and stuff the fiber or batting under the existing foam cushion. Zip the covers and place them back on the couch.
5. New Springs
In case your cushions are sagging because the springs are broken, the only solution will be to purchase new springs.
Springs are important in that they help to ensure that the cushions do not sink too much as one sits on the couch.
Thus, new springs will offer even more firm support for the cushions.
They also make the couch resistant to additional weight and pressure and therefore they reduce the risk of sagging.
3 Reasons Why Your Couch Cushions Sag or Sink
The couch cushions could be sagging due to the following reasons;
1. The Frame is Broken
The first thing you should do to find the cause of the sagging is to check whether the couch frame is broken.
If you have a wooden coach, the board or the frame that supports the cushions can break due to a lot of weight being exerted on it over time. Now, arises the question of how to fix a sagging couch?
So, if it's broken you need to fix it by replacing the frame using plywood or cardboard.
2. Uneven Distribution of Weight Around Your Cushions
You may be fond of sitting on some parts of the sofa while other areas are less often sat on.
This is likely to cause uneven distribution of weight on cushions and with time, they may start sagging. The only way to make the cushions firm again is by getting new foam inserts or fiberfill.
3. Sleeping on the Sofa
We've all done it. Sleeping on the sofa is a habit that is hard to stop.
This is a bad habit that with time puts stress on the couch springs causing them to deteriorate.
Once the springs become weak, they cannot provide strong support for the cushions, which makes them sag.
Replacing the springs with new ones could be an easy fix if you do not want to purchase another couch.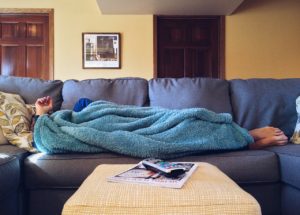 ---
See also: Best seat pads for rocking chairs
---
How to Keep Couch Cushions from Sinking
1. Invest in Good Quality Furniture
Investing in good-quality furniture is one of the most important ways to prevent your couch cushions from sinking.
While this might seem obvious, good-quality furniture made from sturdy materials will provide your couch cushions with the support they need to stay firm.
If your couches are made from cheap materials, like low-quality wood or metal that rusts over time, they will start to waste away, causing your couches to sag.
Therefore, solid pieces of furniture prevent this problem from occurring. 
2. Flip Cushions Frequently
To ensure that your couch cushions do not sag, you need to flip them on a regular basis.
You may be having a habit of sitting on a specific part of your couch, which makes the cushions deteriorate over time and lose their rebound ability.
Flipping them will ensure weight is distributed evenly on the cushions so that they do not start sagging on certain parts.
3. Remove Fiber Filling Before Washing the Cushions
Of course, this goes without saying. You cannot wash the cushions with fiber since they will become weak.
Thus, in order to maintain their rebound ability, remove the fiber filling, and wash the covers in the machine or by hand.
However, it is very important to note that some cushion covers need dry cleaning so as to stay in good condition. Hence, read the washing instructions carefully on the label.
4. Add Polyester Fiberfill to Your Cushions

If you're on a budget and cannot replace your current couch cushions, then a cheap option is to add polyester fiberfill or batting to the cushions. You can get easily get a good quality polyester fiberfill bag online.
It helps give your couch cushions some much-needed support and volume while also helping prevent them from sagging further. 
Polyester fiberfill is also easy to use, especially if your couch cushions have a zip on their side.
All you need to do is open up the cushions and stuff them with the batting until they have taken on the shape that you prefer. 
5. Change the Foam Inserts in Your Cushions
If you don't want to add batting, you could replace the foam inserts inside your couch cushions.
Foam inserts are relatively affordable and easy to find in stores and online, and they are especially perfect for couch cushion seats. They are also easy to put into couch cushions!
All you need to do is unzip your cushion cover, but the old foam inserts out, and replace them with the new ones. 
---
See also: what to put on leather furniture to prevent cat scratching
---
FAQs
1. What to put under sofa cushions for support? 
You can put either plywood or cardboard under sofa cushions for support.

Both of these materials work just as well, so it doesn't matter if you can't find one of them.

They are also easy to place under your sofa cushions and do not require any external support.
2. How to make couch cushions firm again?
You can do several things to make your couch cushions firm.

If you're on a budget, you could replace the foam inserts under the cushions.

You can also take your cushions to a professional upholsterer and fix them. Even though it could cost a little more, a professional will do a better job!
Conclusion
We have talked about some things to put under couch cushions to prevent sagging and ensure comfort when you sit on the couch.
Sagging makes the cushions weak and so they cannot offer any support.
Luckily, once you identify the cause, you can employ some of the DIY techniques we have discussed in this article without the need to buy another sofa.