When it comes to bathroom fixtures like faucets and showerheads, most people don't know which finish will enhance their bathroom appearance. For instance, knowing which finish is best for bathroom faucets has a significant impact on the overall appeal of the bathroom.
Your bathroom may look luxurious and high-end or less attractive based on the finish you pick.
So in this article, we shall look at the different types of bathroom faucet finishes. We shall discuss their pros and cons and give you suggestions on the best ones to pick based on certain factors.
At A Glance – Best Bathroom Faucets
Best Finish Bathroom Faucets
Which finish is best for bathroom faucets?
Faucets are made from different materials like metal and plastic.  To improve their appearance and durability, finishing is done on the surface by applying a thin coating of a preferred metal.
The coating metal could be brass, nickel, bronze, chrome, stainless steel, and copper among others.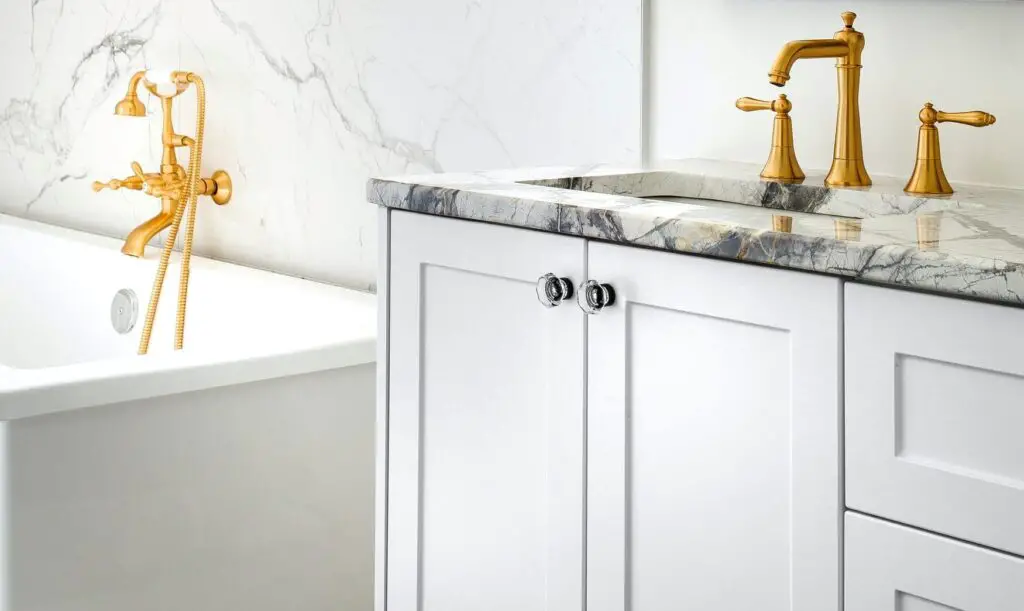 Each finish has its own benefits and drawbacks but overall, they make the faucets more attractive than they would be without the finish.
So let us look at each of these finishes and their pros and cons.
Types of bathroom faucet finishes and pros and cons
1. Brass finish bathroom faucets
Satin Brass
Satin brass is for people who don't like shiny and reflective fixtures.
It has a smooth matte finish that is golden brown in color. This gives the room a subtle and warm appearance.
The good thing about satin brass faucets is that they look great on both modern and vintage interiors.
In addition, they do not show fingerprints and dried water spots. Also, they are corrosion resistant so they can last for years and years while looking as good as new.
Satin brass faucets are however very expensive and not readily available.
Polished brass
If you are looking to have a classic and vintage look in your bathroom, then polished brass should be your first choice of faucet finish.
It is simply solid brass that is lacquer coated and polished to protect it from oxidation that may tarnish its aesthetic appearance over time.
Polished brass differs from satin brass in that it has a shiny, bright, and more reflective appearance. This makes it more visible, which brightens an otherwise dull bathroom.
Although it is suited for a traditional bathroom, it is quite common. This is probably due to the fact that it is readily available and matches easily with other bathroom fixtures.
For instance, this Delta Faucet for the bathroom comes highly recommended since it's polished brass and guaranteed to look new for life. In addition, it has a dual handle design that makes it easy to control the water flow and temperature.
However, one drawback is that polished brass tends to be relatively more expensive since it's solid metal compared to other types of finishes like chrome.
Brushed Brass
There is no doubt that brass will never go out of style due to the wide range of options available.
Brushed brass faucets look more like satin brass except it they have a textured feel.
They are simply made from brass that is brushed with a special tool to give them a rough and matte finish. Thus, brushed brass faucets are not shiny or reflective but have a gold-like appearance.
One major pro is that these faucets have a very sturdy and strong construction since they are made from premium brass. So, their durability is unmatched.
Most importantly, brushed brass does not tarnish and can pair well with a wide of colors in the bathroom.
Kingston Brass widespread bathroom faucet is highly recommended due to its solid brass construction and the drip-free ceramic disc cartridge.
Even without the high profile glossiness, this faucet still adds an authentic classy gold glamour to the bathroom.
---
See also: Best all metal shower head
---
2. Nickel finish bathroom faucets 
Brushed nickel
Just like brushed brass, a brushed nickel faucet is treated with a special tool so as to have a textured finish. This gives it a matte appearance that blends well with virtually every style and color in the bathroom.
Most importantly, the textured surface prevents fingerprints and water spots from showing.
Although faucets with this type of finish are quite costly, more and more people are opting to have them in their bathrooms. This is due to the fact that the finish is durable and looks luxurious and warm.
For instance, the Moen Two-Handle Centerset bathroom faucet is quite popular due to its brushed nickel finish, which gives it a warm-grey metallic look.
---
See also: Best tub filler for a freestanding bathtub
---
Polished Nickel
Polished nickel is actually brass that is plated with nickel and then polished to give it a luxurious finish.
It has a silver-tone that is shiny and reflective hence fingerprints and water spots tend to show.
Polished nickel does not need to be lacquer coated since nickel does not tarnish.
However, due to the moisture in the bathroom, nickel polished faucets need proper care using simple and regular cleaning techniques. This will ensure the faucet maintain their shiny appearance and keep looking new for years and years.
This Pfister Arterra widespread bathroom faucet is purely constructed from metal and then polished with nickel.
It is very high quality, very sturdy, and beautifully finished.
3. Chrome finish faucets for bathroom
Polished Chrome
Chrome is one of the most popular finishes for faucets in modern, classic, and traditional bathroom home designs.
Polished chrome may be confused with polished nickel because it has a silver shiny tone too.
However, it is intensely shiny than polished nickel and very reflective. This makes it very versatile in that it can match with a lot of other fixtures in the bathroom.
Due to its shiny surface, fingerprints and water spots tend to show easily. The spots are however easy to clean by wiping with a soft cloth with water and vinegar.
Most importantly, polished chrome faucets are more affordable compared to other types of finishes like polished brass. In addition, it does not corrode easily unless it is damaged during cleaning or installation.
Delta Faucet Windemere centerset bathroom faucet has a polished chrome finish.
Apart from the high-quality finish, this faucet uses about 20% less water than the industry standard. Also, it is ADA compliant since it meets all the requirements.
4. Bronze faucet finish for bathroom
Oil rubbed bronze bathroom faucet
Bronze is considered a high-end finish due to the luxurious appeal and high-end flair it brings to bathrooms and kitchens.
Oil rubbed bronze finish is done by chemically darkening the surface of the faucet to look like aged bronze. This gives it a matte dark brownish-black finish that is somewhat slick and oily.
The matte finish is good because it prevents fingerprints and water spots from showing on the faucet.
However, oil rubbed bronze faucets need more maintenance compared to other types of bronze finishes since time oil-rubbed bronze finish may start to rub off.
While some people like the new aged look after it rubs off, some like to maintain the darkened bronze finish. So, more care is needed to maintain the sheen.
Oil-rubbed bronze faucets are best suited for traditional home décor styles like Baroque and Mediterranean.
See this Moen Brantford two-handle widespread bathroom faucet for a clear picture of how oil-rubbed bronze faucets look like.
It gives your bathroom a polished and traditional look that is quite elegant. Most importantly, the manufacturer guarantees a lifetime of shine without tarnishing, corroding, or flaking.
---
See also: Best spray paint for oil-rubbed bronze fixtures
---
5. Stainless steel faucet finish
The stainless steel finish is often confused with brushed nickel since they both have an interesting interaction of light and shadow on the surface.
However, the stainless steel finish does not have a textured surface rather; it is extremely smooth and shiny. In addition, faucets with this type of finish appear to have a faint blue tone.
The faucets are resistant to corrosion and rust but they tend to show water spots and fingerprints easily on the surface.
Nonetheless, stainless steel finish faucets fit seamlessly with a wide range of bathroom fixtures.
---
See also: Best bath mat for textured tub
---
Conclusion
Knowing which finish is best for bathroom faucets can be quite confusing. The majority of the finishes appear similar so they might be difficult to differentiate.
Nonetheless, we have highlighted some of the best finishes you can choose for your bathroom. What you choose should be determined by the kind of style you want such modern or traditional look.
For instance, you might want to go with an oil-rubbed bronze finish if you want a traditional look or satin and polished brass. On the other hand, polished nickel or polished chrome fit seamlessly in a more modern bathroom style.